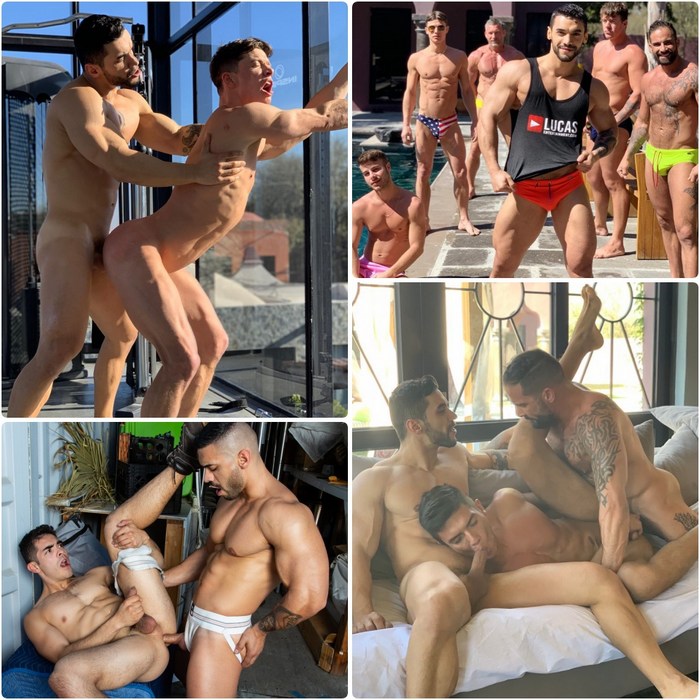 We are about to see many bareback sex scenes from gay porn star Arad Winwin as he's filming a lot in Mexico for Lucas Entertainment. Check out the preview pictures and video clips below. He fucks Ruslan Angelo bareback. And just shot a 3-way in which Arad and Edji Da Silva DP Benjamin Gomez. He is also scheduled to shoot a bareback 4-way with Allen King, Rico Marlon & Edji Da Silva tomorrow. All these scenes will be released on LucasEntertainment.com soon.
And next week, Arad will make his bareback debut in Raw Workloads from Hot House. Check out the XXX trailer from this scene where Arad Winwin fucks Cazden Hunter bareback below.
Arad Winwin & Edji Da Silva are excited about their scene tomorrow with Allen King & Rico Marlon.
Arad Winwin fucks Ruslan Angelo bareback on the set of Lucas Entertainment in Mexico
When you get an expected question… I will have my revenge… @OAradwinwin @QueerMeNow @theQueerPig #lucasentertainment #LucasMen pic.twitter.com/3Khgp49uax

— Edji-Da-Silva (@EdjiDaSilvaXXX) January 28, 2019
Day 2 and second scene done ? ??…
I will post some domination videos ..
..
:.@MichaelLucasNYC @LucasEnt #lucasentertainment #LucasMen pic.twitter.com/3CSX53VSLF

— Official.ARADWINWIN (@OAradwinwin) January 28, 2019
Hot hot hot… Arab power in Guanajuato. @OAradwinwin and I we destroyed @BenjaminGomezxx… and I can tell you that will be a great scene…
On the set of @LucasEnt #LucasEntertainment #lucasmen @theQueerPig @QueerMeNow pic.twitter.com/DgHvYX3TO6

— Edji-Da-Silva (@EdjiDaSilvaXXX) January 28, 2019
Arad Winwin and Edji Da Silva DP Benjamin Gomez
Guys I am so excited to announce you that… watch the video !@OAradwinwin @Allenkingxx @RicoMarlon22cm @EdjiDaSilvaXXX pic.twitter.com/K7tFmNq7Av

— Edji-Da-Silva (@EdjiDaSilvaXXX) January 29, 2019
What's professional team … what a handsome guys .. here in Mexico ?? filming for @lucas.entertainment @michaellucasnyc . ????#top #flex #vline #lifestyle #lean #shiny #hotman # #studio #hotmale #project #comingsoon #hardwork #pornoactor #lucasentertainment #lucasmen #mexico pic.twitter.com/U6lg8rk2P8

— Official.ARADWINWIN (@OAradwinwin) January 29, 2019
Diner with Boys… cheers ?
what a great times .. ??
..
..@MichaelLucasNYC @LucasEnt pic.twitter.com/97X3J41VlA

— Official.ARADWINWIN (@OAradwinwin) January 30, 2019
Arad Winwin on the set of Lucas Entertainment in Mexico, soon on LUCASENTERTAINMENT.COM
+ Arad Winwin Fucks Cazden Hunter Bareback In Raw Workloads On HOT HOUSE [Coming February 6]