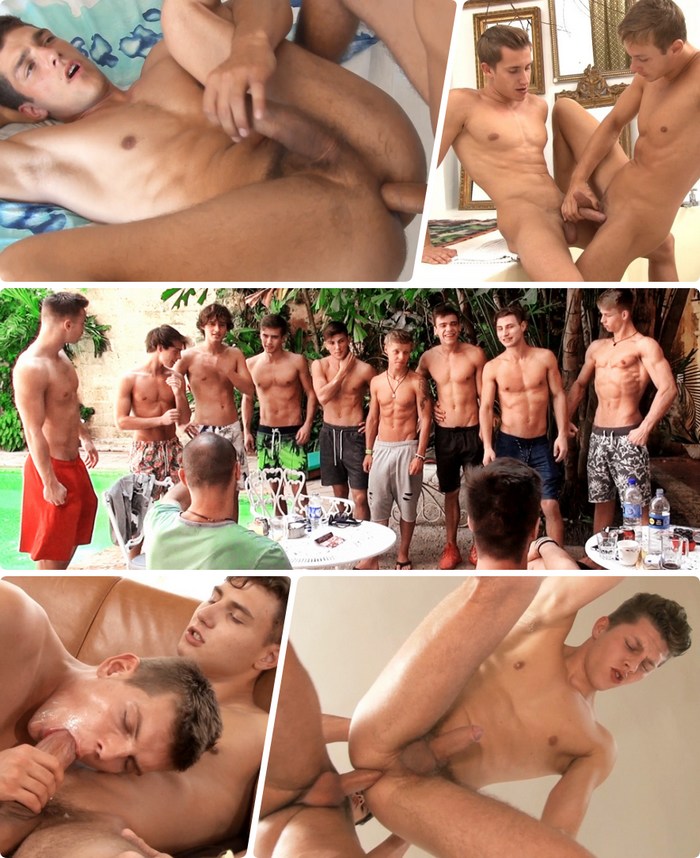 It's great to see hot BelAmi gay porn star Ariel Vanean bottoms again in his latest video where he gets fucked bareback by Nate Donaghy. This week BelAmi also introduces hot newcomer Travis Lecomte in a scene he bottoms for Rocco Alfieri. And don't forget to check a sexy photo shoot with hotties Marcel Gassion & Raphael Nyon and the gay porn behind the scenes documentary of BelAmi models' adventure in Colombia continues in Colombian Tapas Part 3.
Some of you remember Travis from his casting, but this is his first and only scene that we have, and it is his training scene with Rocco.Although we decided not too film so much with Travis, we have been filming since with his younger brother. We're not going to tell you who it is here, so you will have to make a guess.
+ Travis Lecomte Bottoms For Rocco Alfieri
Our Happy New year boys for 2018 are Marcel Gassion and Raphael Nyon. This is a shoot that was from the summer at the Castello KinkyAngelo and comes to us from the lens of Rick Day. For this shoot Rick made use of many of the outdoor spaces, and the boys always seem to be on the move from one spot to another. While not an obvious pairing to make, we must say that they do look rather good together.
+ Marcel Gassion and Raphael Nyon
A lot of the time our boys have to travel from different parts of the country to our studio in order to film a scene. To be on the safe side, we normally ask them to come in the night before and we take care to let them get a good nights sleep before filming. This sometimes has it's downsides if the boys choose to share a bed the night before a scene. Luckily for us, Peter is a pro and rebuffed all of Gary's amorous attentions the evening before so that he could give us a great performance in front of the camera here. The wait didn't seem to dim Gary's desire at all, and his love of big dick finally gets satisfied here.
+ Gary Danton Gets Fucked By Peter Annaud
So finally everyone has made it to Colombia and the boys are getting settled into their accommodations before starting the 2-week shoot. As always, our location scouts have managed to find them somewhere special to stay, with plenty of things to entertain them (and plenty of opportunities for them to risk their lives as well).
We let you into another little secret here as well: the pre-shoot inspection…. to make sure all the boys are in top shape before filming. If you want to know the results, take a look here at part 3 of Colombian Tapas.
Since Christmas was such a great time here on BelAmi, we decided to extend it well into the new year and make sure you all get off to a great start in 2018. To that end, we have another exotic scene for you today from Mykonos. This time we have Ariel and Nate in front of the camera. The blue skies and pleasant weather always put the boys in a great mood, and a great mood makes for great sex. Ariel is on the bottom here enjoying every thrust of Nates big dick until he shoots his load all over himself.
+ Ariel Vanean Gets Fucked Bareback By Nate Donaghy
+ Watch Stunningly Beautiful Gay Porn Stars Fucking Bareback on BELAMIONLINE.COM