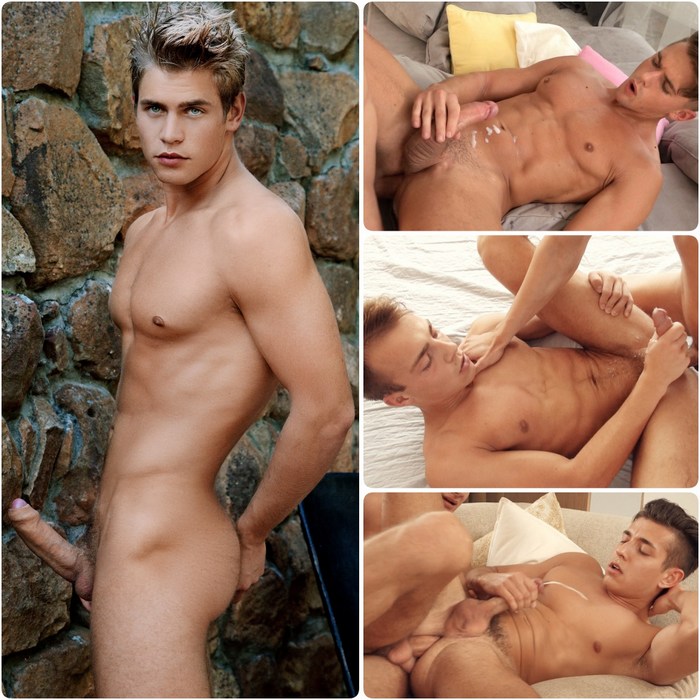 Dolph Lambert is one of the most beautiful BelAmi gay porn stars of all time. It's sad to know that BelAmi is about to release his final sex scene, a flip-fuck with Phillipe Gaudin soon. For now, they released his final photo shoot. Don't forget to check out the hot sex scene in which Tony Conrad cums while getting fucked raw by Ryan McKennak.
Over at BelAmi's sister site FRESHMEN, you can watch: Bob Marghiela fucks Mario Texeira, Pip Caulfield bottoms for Mael Gauthier, and Jeff Mirren fucks Jake Gheisar.
Our 25th Anniversary celebration could not be complete without the inclusion of the incomparable Dolph Lambert. For many years Dolph was the face of BelAmi with his movie star good looks, charming personality and sharp wit. This is the final solo photo shoot that we have with him, and his final hardcore scene (a flip flop with Phillipe) will be coming to you soon.
Ryan has 3 scenes out on Freshmen already so as part our of 25th Anniversary '25 new boys' promotion it is time to introduce you all to him here as well. Ryan is one of our newer Hungarian models who has been filming with us for a couple of years. Both Ryan and his partner are good versatile performers so it could have gone either way, but Ryan was chosen to be the top in today's rather fruity encounter. Ryan will be back again in the next Jambo Africa and also a new series 'Summer Loves' coming your way next year.
+ Ryan McKenna Fucks Tony Conrad Bareback
Mael's reputation for shyness is undeserved. He's just a bit more reserved than the rest of our rowdy bunch. Two members of that bunch, Kevin and Adam, attempt to break Mael from his shell through a benevolent prank. They tell him he is coming for a photoshoot, but their real intention is for him to give Pip the fucking of his life. He's surprised at first but recovers quickly enough to show Pip why Hungarians have a reputation for being great lovers. Pip's appreciation for his lover's skills is matched by his love of cock evident throughout the video. Mael shows equal enthusiasm for Pip's ass as he pushes his huge creamy load back into him.
+ Pip Caulfield Bottoms For Mael Gauthier
Mundane domestic activities can make for very sexy scene openings. Bob and Mario have a morning game of "Hide Mario's Underwear". This forces Mario to run around naked. Bob knows that this will end with other morning games of "Hide the Salami" and "Horny Morning Sex". This new generation of Freshmen loves sex. It's manifested in the natural flow this scene enjoys their enthusiasm shown for fucking rimming and oral and their love of cumming while getting fucked. Bob doesn't like that cum to go to waste so he devours as much of his partner's load as he can.
+ Bob Marghiela Fucks Mario Texeira
Jake Gheisa is our Flirting with Freshmen boy this week. He is paired with the sweet and charming Jeff Mirren. Jake is a scruffy skater type who is nervous before his first video shoot. Jeff generously offers to help ease his nerves before the scene begins. Jake is a more "twinkish" model. However, he also has a bad-boy confidence in sex, loves getting fucked, and shoots a very decent load. He's included in our "flirting" category as we've only filmed three scenes with him. However, if you show a lot of enthusiasm for the lad we can get him back and perhaps turn this flirtation into a full romance.