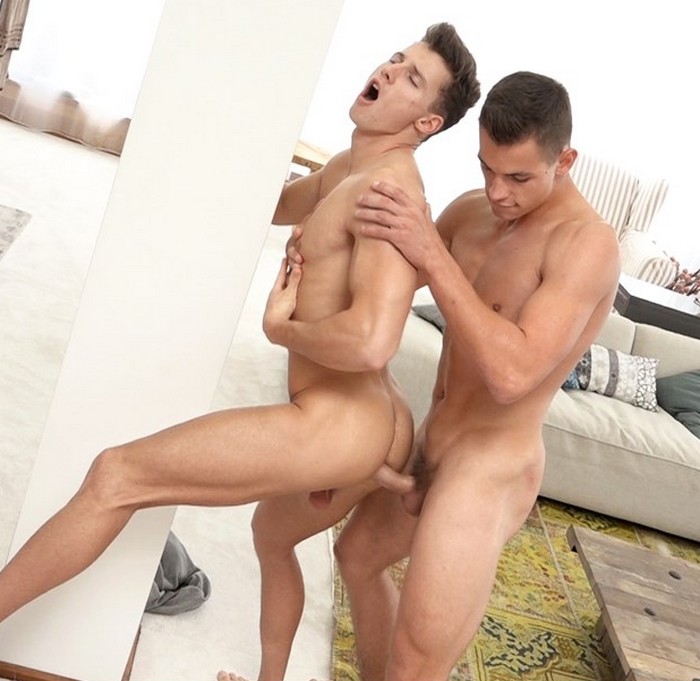 So many hot updates from BelAmi this weekend. One of my favorite webcam models and gay porn stars Jon Kael gets fucked raw by Jeroen Mondrian, hottie Ariel Vanean gives a naked interview, newcomer Jerry Hannan bottoms for Kevin Warhol, and Jerome Exupery fucks Liam Efron.
Jamie Durrell was the lucky guy who was assigned to train Jerry, but at the last minute we substituted Kevin has his very first scene partner. Jerry is quite the shy one here, but Kevin does his best to bring him out of his shell. Luckily for everyone, Kev is used to working with the new boys and knows just what to do..
+ Kevin Warhol Fucks Jerry Hannan
Today's scene has a bit of a backstory to it. Jerome actually first met Liam when he was traveling back from a shoot in Budapest. Apparently, the 2 hit it off really well (or maybe I should say 'got off together') and the next week Liam had joined as part of the BelAmi team. Today Jerome is offering to recreate that initial meeting for us, this time on camera…. with the addition of some solid pounding as well. I think we are all very fortunate for the happy coincidence that brought Liam to us..
+ Jerome Exupery Fucks Liam Efron
So by now all of you know a bit about the Ariel Vanean story, his departure and return to BelAmi. Today we have Ariel in front of the camera for an interview that we made so that he can fill in some more of the blanks for us. Some things are just meant to be, and it seems that Ariel being part of the BelAmi team is one of them.
+ Ariel Vanean Naked Interview
Before we get to see Jeroen and Jon in action, we get a glimpse into the domestic life of Helmut, Jerome and Christian and the apartment that they all share together.
The last time we saw Jon and Jeroen together it was Jeroen being the passive partner, so in today's encounter Jon wanted the chance to see what it is like to be fucked by Jeroen… If they ever manage to get the three stooges out of the apartment that is… 😉