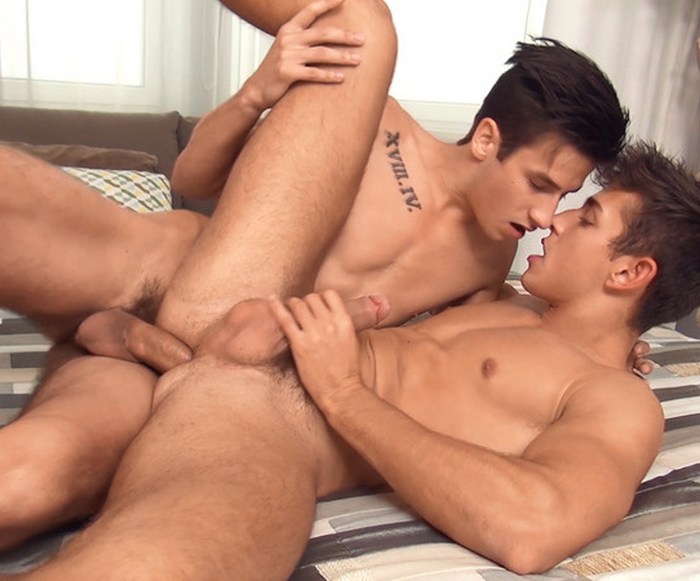 BelAmi's hot new bottom boy Mario Texeira made his gay porn debut back in November where he got fucked by Adam Archuleta. You can watch his second scene in this week's Freshmen update where Mario Texeira gets fucked and creampied by Nate Donaghy.
This update also introduces two new BelAmi models Pierre Cezanne and Dean Cooper along with the sex scene Jean-Luc Bisset fucks Jordan Faris raw.
It is always a challenge for our directors to sculpt an opening for a scene when neither of the boys has a common language. Marty's solution here was to ask Jean-Luc to perform a strip tease for Jordan. The result may look like a cheap strip club, but since I'm sure many of you have been to one that you will survive it and it does get both guys in the right mood. Although usually a bottom, here we get to see Jean-Luc showing us again that he is quite a decent top as well.
+ Jean-Luc Bisset Fucks Jordan Faris
Since some of you have commented that Pierre Cezanne is too old for BelAmi I would like to offer you some clarification. Pierre came to us through BelAmiChat last year, and at 19 years old already had his beard. We started to film with the beard, but we also asked him to shave it off for us once just to see how it looked. Here you have a few pictures of Pierre both with and without the beard. Share your thoughts about Pierre with us. We can assure you that all his performances are 1st class. PS…. We like him best with the beard.
Here we are offering you the interview and solo with Dean Cooper, filmed during our last Africa trip. I must admit to a little hesitancy when it comes to Dean, but I feel obliged to introduce you to him here on Freshmen so that you may pass your judgement upon him.
In November we gave you Mario's training scene with Adam and today we have a scene where he is a little more experienced. Since it was Adam who trained Mario, it is fitting that it is Adam who is filming this scene with Nate. Both boys are in great shape for this scene and we see that, with Benoit, we have another contender title of cumshot king.