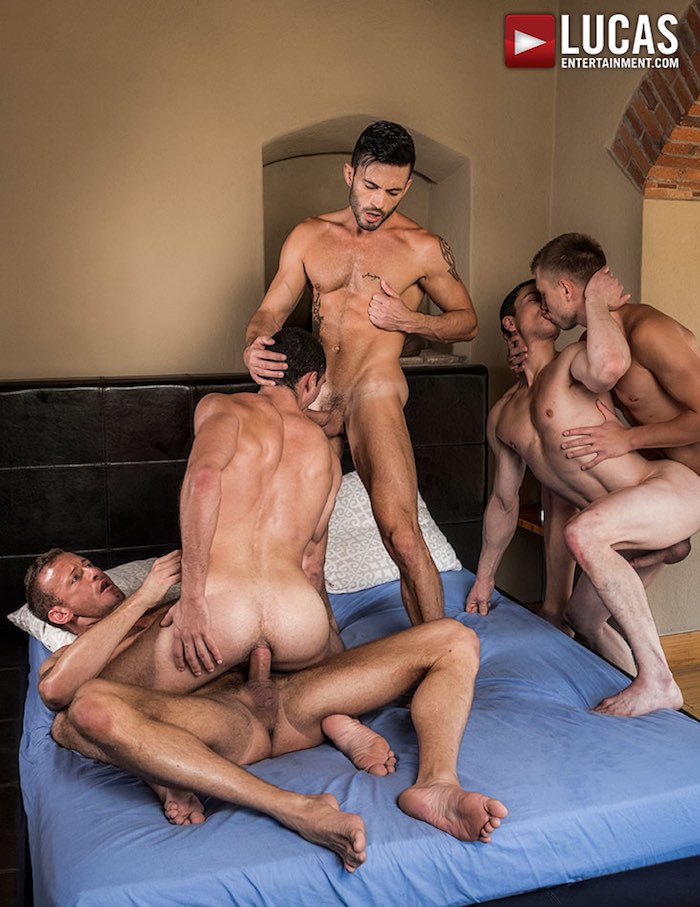 Finally, the bareback orgy scene from RAW DOUBLE PENETRATIONS 07: JAM PACKED movie. This video was originally scheduled to be online on December 15th. But they switched it for the Donato Reyes' bareback debut scene instead.
This group sex scene features international cast from around the world: Sweden, Russia, Spain, and Brazil. Don't miss this bareback orgy starring Ruslan Angelo, Logan Rogue, Andy Star, Bogdan Gromov & Javi Velaro.
Ruslan Angelo returns to take the lead in this gay sex encounter: he offers up his ass to Bogdan Gromov, Logan Rogue, Javi Velaro, and Andy Star. Ruslan and Andy both share the honor of getting through throats and holes thrashed… but by the end of the scene, many more holes will find themselves thoroughly penetrated too!
+ Ruslan Angelo's Five-Man Bareback Orgy
+ More of Ruslan Angelo | Logan Rogue | Andy Star | Bogdan Gromov | Javi Velaro
+ RAW DOUBLE PENETRATIONS 07: JAM PACKED | LUCAS ENTERTAINMENT