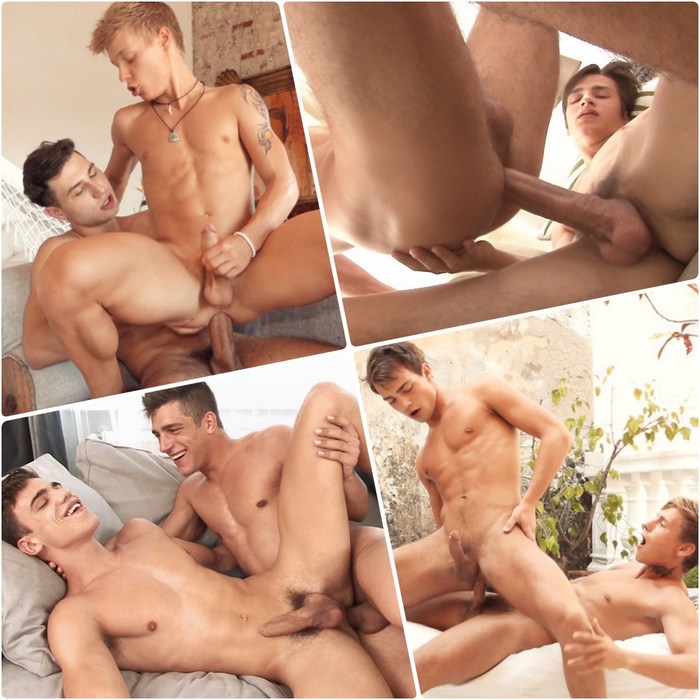 In case you missed the news, cute BelAmi gay porn star Sven Basquiat is in Las Vegas at the moment with Helix Studios models. This week you can watch Sven Basquiat get fucked raw by Peter Annaud's huge cock on FRESHMEN along with Kevin Warhol fucking Pip Caulfield.
At BELAMIONLINE.COM, be sure to check out: Rocco Alfieri takes Nate Donaghy's big dick and Ariel Vanean fucks Joaquin Arrenas raw.
We'll give him this: He tried. But there was no way Sven was ever going to convince Peter to become a vegetarian. Like any great salesman, he knows his audience, enticing Peter with the allure that vegetarianism will give him "More energy for sex". All this sex talk makes Sven hungry for the one piece of "meat" he'll consume- the one between Peter's legs. Peter elects to demonstrate the advantages of carnivorous desires on Sven by fucking the cum out of him. He then shoots out a hefty dose of animalistic protein over Sven's eager hole.
+ Sven Basquiat Gets Fucked Raw By Peter Annaud's Huge Cock on FRESHMEN
Here is a rare encore presentation. Generally, we avoid repeat performances. But as Kevin and Pip are both favourites of so many, we are pleased to have them together again. Both boys share the dichotomy of having a simultaneous innocence and a playful sexual desire. They're both a joy to watch. In this scene, Pip connives to have Kevin miss a day trip so that he can have him all to himself. We- and Kevin- are so glad he did. As always, these two have a way of getting us to reconsider our assumptions. With Pip we're reconsidering are use of the word "passive" to describe a bottom as Pip is anything but when it comes to the urgency he shows in getting a dick up his ass. With Kevin, watching him load Pip's face with cum makes us reconsider Adams position as "Cum shot king". Should we have an encore of our encore?
+ Kevin Warhol Fucks Pip Caulfield on FRESHMEN
Nate's introduction to BelAmi was with the charming Marc Ruffalo (which can be found on Freshmen.net), and this one with Rocco was his second. Kevin plays matchmaker here, knowing that Nate would appeal to Rocco's tastes and help inspire the newcomer into a porn career. It does show at times that Nate is still a little unsure of his prowess as a top and is a little timider than the Nate that you are all used to seeing now, but even as an early performance he showed outstanding promise and manages to fuck an explosive cumshot out of a very appreciative Rocco.
+ Rocco Alfieri Takes Nate Donaghy's Big Dick Bareback
On Tuesday we gave you a scene from early on in Nate's career, so we thought that we should balance it out with one featuring 2 very experienced performers, Ariel and Joaquin. The scene was filmed for us by Marty Stevens and the combines experience of the director and models has given truly special results. Ariel may prove that he's never going to be a good skateboarder, but his talents as a lover are almost infinite, starting off slowly and gently and working up to a superhuman pace. Whatever he comes up with though, just inspires Joaquin to want more and more, faster, harder and deeper.
+ Ariel Vanean Fucks Joaquin Arrenas Bareback