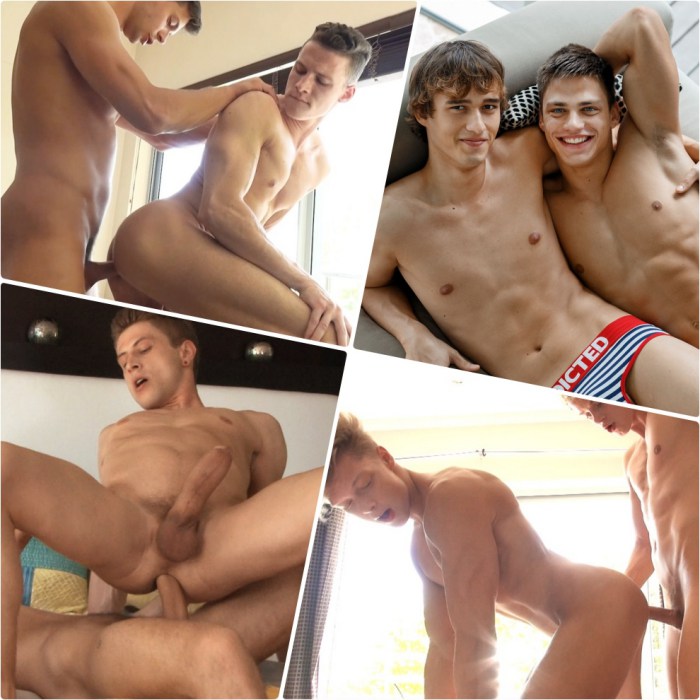 A couple of weeks ago, I showed you an XXX trailer of BelAmi's epic gay porn series JAMBO AFRICA. It features 65 exclusive BelAmi gay porn stars in 150 condom-free sex scenes along with 50 documentaries. Needless to say, this is BelAmi's biggest production ever. The first sex scene of this series shot on location in Cape Town, South Africa is now online. It's one of my favorite hot bottom Jon Kael getting fucked raw by Rhys Jagger.
I also have preview videos of the upcoming sex scenes: Christian Lundgren bottoms for Jerome Exupery, hung gay porn star Jack Harrer gets fucked by Bastian Dufy, and a photo session with hotties Steve Skarsgaard & Kieran Benning.
Our first pair of boys in front of the camera of Benno Thoma as part of the 'Jambo Africa' series is Steve and Kieran.I'll let the photo set speak for itself and instead remind you of what to expect from the series. In the Jambo Africa week each month we will bring you different boys in the photosessions as well as 3 full scenes (including home videos) and another installment of the documentary 'African Souvenirs', as well as a little preview of what is coming the following month.As this is the first day, we will welcome you to Jambo Africa and hope that you will enjoy the series as much as we have in bringing it to you.
+ Photo Session with Steve Skarsgaard & Kieran Benning
I suppose the first thing that you will all notice about this clip is that we have dropped the familiar BelAmiOnline introduction in favor of one made especially for this project by Mel Roberts. All of our videos for this project will be united by this common feature. The scene itself is a home video featuring Rhys Jagger and Jon Kael. Although Rhys also had to work as Phillipe's production assistant, he made sure that he wasn't left out when it came to the sex. We also have the debut here of Claude Sorel as director and Cameraman, so you can let us know both what you think about the scene, and also Claude's debut behind the camera.
+ Jon Kael Get Fucked Bareback By Rhys Jagger
As part of our promise that you would get plenty of Jack this year, the 2nd scene in Jambo Africa features Jack getting fucked by Bastian Dufy. Being a model of long standing and enhanced reputation, Jack enjoys a few privileges, and this time one of those privileges is getting to choose his own scene partner. It must have taken quite a lot of will power to select only one boy, but in the end Jack settles on Bastian. Has he made the right choice? Take a look and see what you think.
+ Jack Harrer Gets Fucked Raw By Bastian Dufy
There is nothing that Christian Lundgren likes more, than for someone to be playing with his ass. If he can't find someone, he will even settle for his favorite dildo, as he thinks he must do this time when Hoyt runs off leaving him a bit frustrated. Luckily Jerome Exupery is around to lend a helping hand and make sure that both Christian and his ass are satisfied.
+ Christian Lundgren Bottoms For Jerome Exupery
+ Watch Stunningly Beautiful Gay Porn Stars Fucking Bareback on BELAMIONLINE.COM