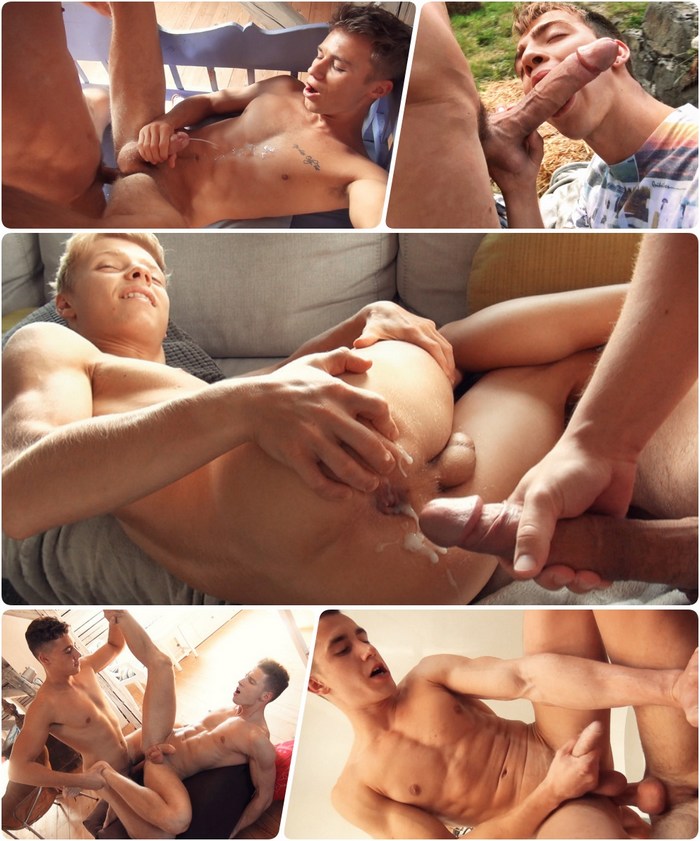 Check out these latest updates from FRESHMEN. Big-dicked gay porn star Joel Birkin fucks Sven Basquiat raw. And I think it's super hot to see Kian O'Connor fucks Raphael Nyon with Raphael's cum still dripping on his abs. You can also watch Jamie Durrell cums while bottoming for Enrique Vera and the teaser of upcoming Boot Camp Part 3 documentary.
We should all have such "problems". Joel, as part of the production team, seeks time alone in the house as the parade of beautiful young men that visit it can cause a distraction. Unfortunately, there is a sexy snag named Sven who was also left behind and is intent on spoiling his plan. While his best laid work plan went astray, he can take solace in getting laid. And how can Joel resist Sven, a versatile model that is, lets face it, more talented at bottoming? Sven likes dicks- the bigger the better. A perfect partner for Joel.Joel for his part, gets even for Sven turning his day upside down by literally turning Sven upside down, demonstrating one of the gymnastic positions director Luke Hamill is famous for. Since Luke is the director, you'll see a more classical and familiar style.
+ Joel Birkin Fucks Sven Basquiat
You've all noticed that a story is more intrinsic to BootCamp than our other series. This scene starts with the guys preparing a hearty breakfast. Jamie and Enrique offer their services but find there are too many chefs in the small kitchen. So instead they run off to do some "cooking" of their own. This is one of Adam's home videos in which he learns a valuable life lesson: it's hart to shoot porn on stairs. The sex is very genuine and filmed almost in real time. If their cumshot is any indication, it is great sex to experience as well as watch.
+ Jamie Durrell Bottoms For Enrique Vera
Kevin may be sexy, cute and charming, but apparently, he is not a very entertaining tour guide. It does not take much for Adam to lure our 2 Hungarians away for some alternative entertainment. At this point in time, Kian is still new to BelAmi, but the combination of his good looks, great body and nice dick is making him a fan-favourite already.
+ Kian O'Connor Fucks Raphael Nyon
In the past, our documentaries revealed what was going on behind the scenes. Now these revelations our happening in the introduction to the scenes. To avoid redundancy, we decided to make the documentaries here shorter and instead try and show you a bit more of what is coming up. The full version of these will happen at BelAmi in the new year in our regular documentary spot. Today we have a part of Kevin's tour with the Hungarians, a taste of Joel's first selfie, and more to show you.