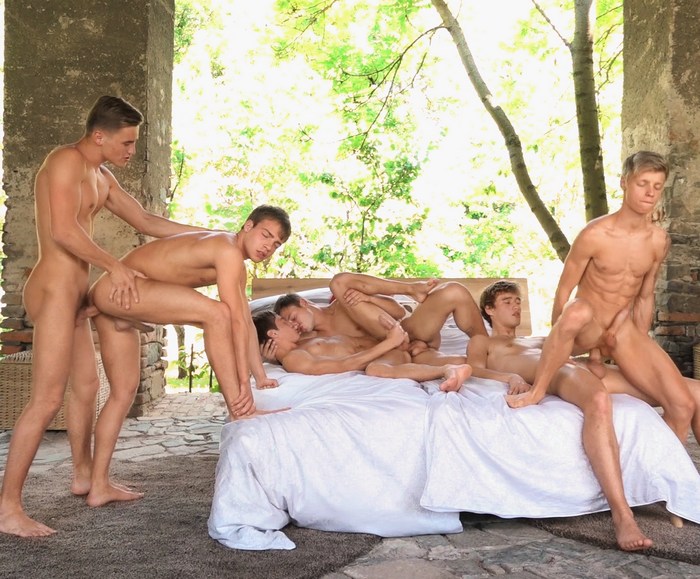 Freshmen just teased fans with some preview pictures of upcoming sex scenes this Christmas. I'm glad that we are about to see Pip Caulfield's raw gang bang that turned into 6-way twink fuck fest. And this week, you can watch Liam Efron bottom for Jim Durden and Oliver Coogan fuck Hugo Diorr.
This is our ultimate Twink edition of Freshmen. Leading the way our Liam Efron and Jim Durden in a scene filmed by Luke Hamill in our Prague Studio. "Reserved" is not a word we would use to describe Liam. "Ravenous" is more apt as he hungrily licks Jim's tight body taking control and ensuring he gets what he desires- Jim. Jim, who is equally uninhibited gives Liam all he wants and more. This is a perfect pairing. No inhibitions, no restraints, just energetic, enthusiastic sex.
+ Liam Efron Bottoms For Jim Durden
This "Ultimate Twink" edition would be incomplete without Oliver Coogan and Hugo Dior. This scene is very different than the frenetic, rough and tumble of our first scene. This is slower paced, romantic and sensual with a lot of rimming and sucking. Soon, Oliver is as eager to slide his XL dick into Hugo's waiting hole as Hugo is to take it. Though the two scenes are different in pace, they're alike in being sexy and erotic.
+ Oliver Coogan Fucks Hugo Diorr
This year's Christmas special is a boy bonanza featuring six of our sexiest Freshmen. Here is a selection of images sure to put you in a festive mood.