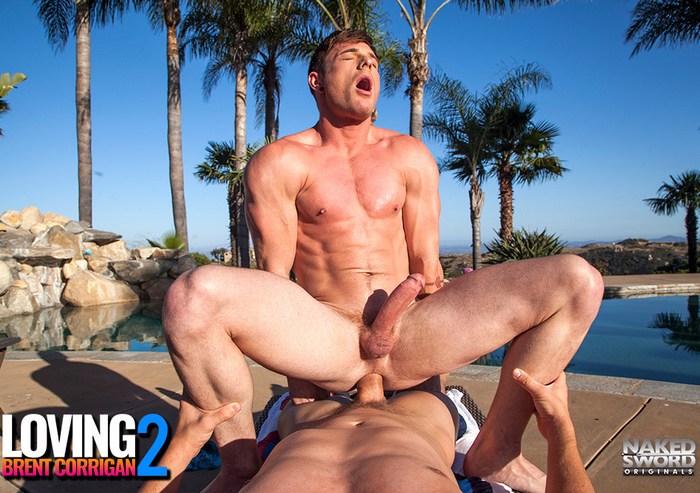 NakedSword Originals team have a surprise for us this Christmas. They are about to release their first BAREBACK movie this Wednesday, December 20th. The movie is called LOVING BRENT CORRIGAN and it's directed by mr. Pam. (Has mr. Pam ever directed a bareback movie before?) The movie is perfect for fans of gay porn star Brent Corrigan. It has you experience a day in the life of Brent through his lover JJ Knight's eyes.
This POV gay porn movie will let you see what JJ Knight sees when he fucks Brent Corrigan bareback and creampies his butt hole. This is Brent's first bareback movie in years! (You can watch Brent and JJ fuck bareback on their Chaturbate show.) And in case you missed the news, Brent and JJ recently announced they are starting a new gay porn studio together then broke up.
[USE THIS LINK] To Get 50% OFF NakedSword.com Membership
There's no better way to start your day than having Brent Corrigan roll over and tell you good morning then go down on your huge cock. It's all just a tease before he jumps in the shower where you wash his back then go make your man breakfast. Later it's off to the nude beach where Brent swims in the ocean then sucks a load out of you under the hot blazing sun! Mmmm he loves the taste of your load! And your day is only half over…
Working out with Brent Corrigan is even hotter than you imagined when he strips naked puts downtime weights to give your cock some attention. When he suggests you head out to the pool for a swim you follow so you can admire his muscular physique while he dries off. Unable to ignore your bulging swimsuit Brent goes down on your giant cock and makes you hard as a rock so you can fuck his tight hole until you both blow thick loads. There's no better way to spend your day Loving Brent Corrigan!
Brent Corrigan Gets Fucked Bareback and Creampied By JJ Knight in LOVING BRENT CORRIGAN
[USE THIS LINK] To Get 50% OFF NakedSword.com Membership