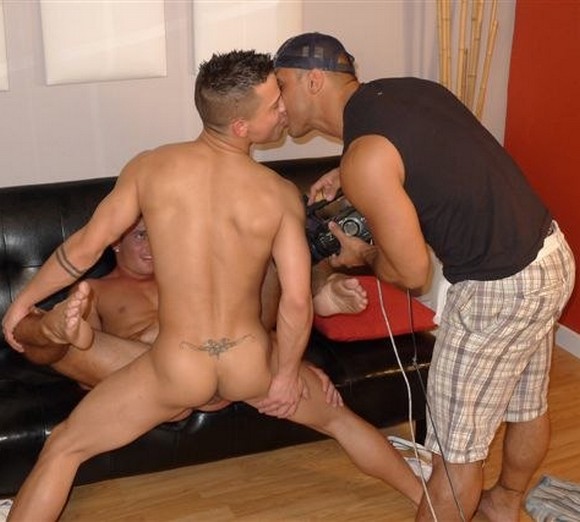 I like the exclusive interview of rising porn star Colt Rivers done by one of my collaborators, Patrick Sands. Here's Part 1 and Part 2 & 3 (which reveals his past as a director for one of Backstreet Boys' music videos).
Today I have another article by Patrick Sands. This time it's an interview with Brent Everett and Steve Pena. Congratulation to Steve who recently won "Best Personality" at Cybersocket Awards 2014.
…………………………
Patrick Sands: Brent Everett has been one of gay porn's biggest megastars for a long time (he never fucking ages, NEVER!) but his hubby and manager Steve Pena has his own following of devoted and loyal fans.
When I had the chance to chat with the guys, I found there was so much to talk about with these sex gods that I may need to keep going back to them over and over and over again.
Patrick: Thank you for taking the time to do this interview. The fans at QueerMeNow are going to love it.
Patrick: First, you guys took advantage of gay marriage at a very early stage. With all of the controversy, changes, anger, politics, relationship definitions, there is one thing I think it's safe to say all of your fans want to know, and I'm going to bravely ask it on their behalf. Remember, you said no topics were off the table! Here goes: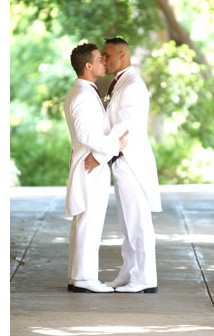 How the hell did the two of end up wearing white at your wedding?
Steve: HAHAHAHA! We both decided on it. We weren't virgins, that's for sure, but we got married when gay married was still virgin territory. White also looked so much sexier and clean.
Patrick: Were there at least harnesses or cockrings underneath?
Steve: No, but we did have a long crazy night using cockrings, Viagra, alcohol and other toys! 🙂
Patrick: We will expect photos to be leaked eventually. Brent, what is the secret to staying so popular for so long?
Brent: Being personable and very interactive with my fan base. I have the most loyal and amazing fans ever!! I LOVE THEM ALL!! They keep me going and I mean that. I wouldn't be where I am without them.
Patrick: Steve, the same question from your perspective. How has the Brent Everett image remained so consistently popular?
Steve: The Internet and social media make it possible. Twitter, Facebook, blogging and Tumblr keep Brent, his image and his brand at the forefront everywhere. With that much of Brent out there, we can travel the world doing club and pride events and thank his fans personally, face-to-face, which is what we love to do more than anything else.
Patrick: More than anything else? More than sex? Or is "face-to-face" code for that?
Steve: Well, if you're going to fuck… I mean thank someone… it's always better to do it with their legs in the air 🙂 Face-to-Face 🙂
Patrick: How did you guys develop the Brent Everett brand?
Steve: Brent's tattoo, hair, face and body could do it all, but the key is that he has the amazing PERSONALITY. Brent is so much more than his big dick. He's such a sweetheart and kind loving person. Anyone who's ever met him will tell you the same. He's such an awesome performer, both in bed and on stage. He will leave you with a good taste in your mouth 😉 He's won all the awards you can win for porn. I'm so proud of him!
Patrick: Wait, wait, hold on! Rewind to the good taste Brent leaves in people's mouths. Brent, tell me about that in detail!
Brent: LOL! Well, it starts by eating pineapple on a daily basis. You want your jizz to taste good? Eat pineapple! Believe me… it works!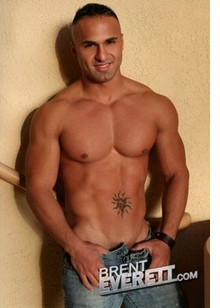 Patrick: I trust you on that one! Other than Dina Lohan or Kris Jenner, most managers stay safely behind the scenes, but Steve, your personality (and sexy self) make that impossible. Was being in public almost naked an intentional choice or did it just kind of happen?
Steve: It just kind of happened. And you can thank Brent for that. I'm kind of hands-on when I work, so when Brent asked me to manage and do PR for him, I became even more hands-on. I was already a promoter in San Diego with my military club events. I just decided to mesh the events and Brent's public performances together. Use what I know for promotion and use it for the porn business. It's worked very well and nothing sells better than sex. So I didn't mind using my image or body to help promote him on stage or in shows.
Patrick: Thank you very much, Brent, for making that happen! What was it like to watch Steve become so well known?
Brent: I'm so happy for him and I love the monster I created, LOL. Can we make his ego any bigger? He can barely fit in his shirt, LOL. I love him to death. We are a team and Steve's such a loyal and great husband. He puts up with so much. I love that he's there for me and I'm happy fans know it as well. I couldn't be happier.
Patrick: Very funny, Steve's "ego" bursting through his clothing. That might be the only thing we haven't seen bursting through his clothing! Brent, you have a lot of experience with that. How do you find underwear to fit your dick? It must be tough because in every picture, it's sticking out.
Brent: That's sort of the point! I like when my shit busts out of the undies or clothes. If I'm turned on, I want you to know it! I want my fans to see every inch of how happy they make me. 🙂

Patrick: More cock talk. Brent, what happens when you come across an ass so tight that it won't let you in? On film, it looks like you push through it and the bottoms love it. Steve, what was it like the first time you got to use it? I know, that's a personal question, you can whisper the answer in my ear if you want.
Brent: The boys I'm fucking already know what they're about to get. If they didn't prepare for my manmeat, that's on them! LOL! I'll be gentle sometimes, but when I'm in the mood to FUCK it's going DOWN and I'll be tearing that boy a new one!
Steve: LOTS of LUBE and POPPERS! But once you have it in and gone a few strokes it's on! Then if he goes rough, I flip-fuck him and give him a taste of what he gave me. FUCK THAT he's gonna get a taste too!
Patrick: No problem with personal questions, I see! Steve, the selfies. Selfie Steve. Such a cock tease! The sexiest lips on the planet, right? Selfishly, can I ask you to take more ass-in-undies selfies? Nothing that will offend the cranks on Facebook.
Steve: Facebook is full of cranks! I put up a pic of my ass even in underwear, it gets taken down!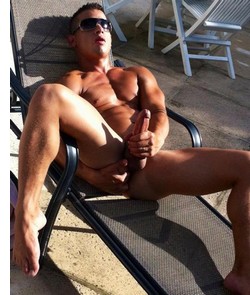 Patrick: Then more ass on Twitter! Brent, help me out here. Am I wrong about his lips? Are they made for kissing, are they blowjob lips…?
Brent: BOTH!! I love his Latin lips! Steve's the best kisser ever! He's passionate or he's soft and then rough when you want him to be! Steve's the only boy to ever make me cum without touching myself – with just kissing and dry humping. UGH!!! Ask any boys who've had the chance to feel for themselves. They will tell you the same. As for blowjobs, I love them from Steve. He loves to just take his sweet time and worship my meat. I can watch him go at it all day. We have video of it! He can deep-throat like no one's business.
Patrick: That ought to help a few others cum without touching. For both of you, tell us about how you guys prep for a Brent Everett appearance? Do you tailor each performance to the crowd once you start? How many push-ups and crunches do you do right before going on?
Steve: We like to practice at home or on the road and always tailor it for each city. Sometimes we can get away with anything, depending on the laws, LOL. So if we can show cock we show cock and if we can't, we show what we can. We like to give it our all. We always try to do the gym before we go out to each club event. And if we can't, we do push-ups and sit-ups. Brent is lucky though. He's naturally shredded. LOL!
Patrick: Porn, like any type of film, is not interactive, so does that make the appearances more important? I've been to them and the fans go wild!
Steve: YES!!! We love when they have his DVDs or items like FLESHJACKS or pictures printed out for him to sign. Guys come up and Brent always takes pictures/hugs/kisses with each and every fan. Since they took the time to come see him, he takes the time to thank them. I love that about him.
Patrick: Tell us the funniest story about your live performing appearances.
Brent: Well, it's part funny and part sad. Someone broke into our hotel room in Michigan a few years ago. They took everything! Our iPads, computers, clothes, shoes and camera (with porn on it too). These people were so mean, they even took our douche bottle! I mean really???? Were they such big fans that they needed that? We would have autographed it if they just asked. It's sad because you can't replace memories, so we just wanted the video and pictures back.
Patrick: Now tell us about the scariest or most bizarre.
Steve: The scariest was when Brent was denied entry to the USA coming from Winnipeg. Our flight was supposed to go through Calgary and that would have been better, but there was an engine problem so the flight was canceled and we had to fly out the next morning from Chicago. When we went through customs, the problems started. The female immigration agent who was in charge didn't like the fact we were married. She thought Brent was using it as a way to stay in the USA legally. Remember, this was before the Supreme Court declared DOMA unconstitutional. Same-sex marriage was legal when we got married in California in 2008, before Prop 8. We both cried and it was like a movie, being separated, our family torn apart. Only I could go home and Brent had to stay in Canada. It was the saddest and scariest moment of our lives that we are still trying to fix it with legal help. I hope that Brent will be back in the USA for 2014. It's been such a long process. I just want our family back.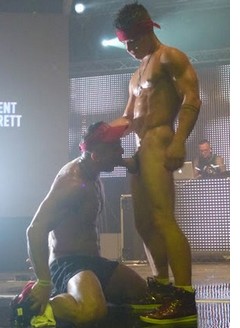 Patrick: That's an incredibly sad and shocking story. Maybe a public case like this will help expose prejudice and hatred in situations like this where bigots are in charge. Do you think your careers had anything to do with her decisions?
Steve: I think us being gay and married plus Brent being Canadian had everything to do with it. She was just being a BITCH that day! Almost took joy in seeing us separated.
Patrick: You are human beings first, no matter what else. Tearing apart a family violates rules of humanity. We all hope this is resolved for you soon. While we are being serious, Steve, tell us about the difficulties that stem from your military past? Do you feel like a role model to gay men or women who make the choice to serve?
Steve: I was kicked out for the gay issue and I'm a big advocate of gays serving in the military. I was fighting for it before it was a popular issue and before it was legal to be gay in the military. I'm happy that my military brothers and sisters can now serve openly. I wish I'd had that chance.
Patrick: WAIT!!!! Hold on for a moment I'm interrupting us to ask Steve about his recent Cybersocket Award for Best Personality, Congratulations! Your family is overflowing with awards! What does it mean to you to have won this award?
Steve: Fuck, it means everything!!! I love it and I'm so proud and honored! The Cybersockets are the like Peoples Choice Awards of Porn. I'm also happy that one of my awards can go on the I LOVE ME Wall Brent has created with all his awards and accomplishments. I work really hard for him and our company and I'm glad the fans see and feel it. I love them all.
Patrick: A Cybersocket is so much better than a Peoples Choice Award. You are so much more famous, with a lot more fans, both of you.
Steve: I say this a lot and I'll say it again, Brent Everett has the best fans in the world. They are so loving and loyal. They are like family to us.
Patrick: So the award is going on the I LOVE ME Wall?
Steve: I'm keeping the award with me in DC, until Brent can join me in the USA. Then it will go with all of his awards when we are back together on his I LOVE ME WALL. It has all his awards and accomplishments. And his dildos and fleshjacks 🙂 Thank you so much for allowing me to be interviewed. Again, I just want to thank the fans who voted and support me and Brent. Without them, we would not be where we are. They all deserve blowjobs from me:-)
Patrick: I'll just take everyone's to go.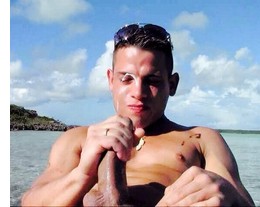 Patrick: Back to the interview. As I was doing research on you guys, I found that you both have a healthy amount of female fans. What is that like?
Brent: WE LOVE IT!!! We love our loyal female fan base. They're just like everyone else and keep it interesting.
Patrick: Do you guys ever just want to say, "fuck the gym, pass me a cookie?"
Steve: Brent never goes to the gym. The fucker is naturally cut and built. When he eats more, he gets muscle mass and looks beefy. If he doesn't eat as much, he's back to looking like Jock/Twink. He's lucky!!
Patrick: Oh, please, Selfie Steve, we all drool over you too. Brent is not the only lucky one!
Steve: I can't live without sugar and carbs! I know I'll pay the price when I have them, so I just work out harder in the gym. I get angry at myself when craving sweets. They will be the death of me.
Patrick: What is next for you guys? More touring, more movies, more products?
Steve: More touring and shoots and products. Once Brent is back in the USA, we can return the cities that made him who he is. It's nice to travel around the world, but it sucks that we can't visit cities and friends in the USA. That's our main goal.
Patrick: Any last words for your fans?
Brent and Steve: We just want to thank each and every one of them for all their support all these years. Without them, we wouldn't be where we are! We love them!! Each deserves a kiss and blowjob! But let's just go with a kiss each for now!!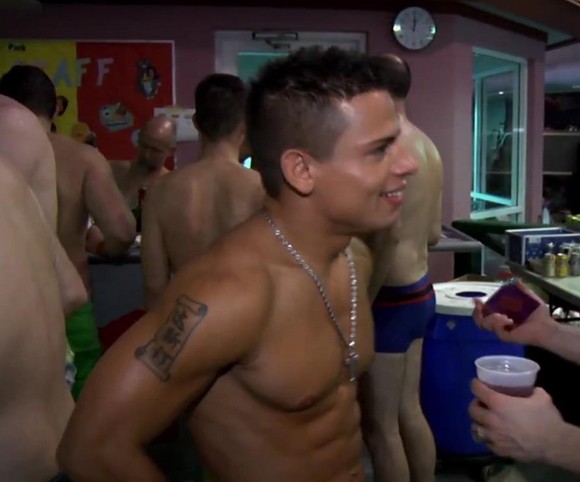 + Brent Everett in Documentary I'M A PORN STAR Episode 6