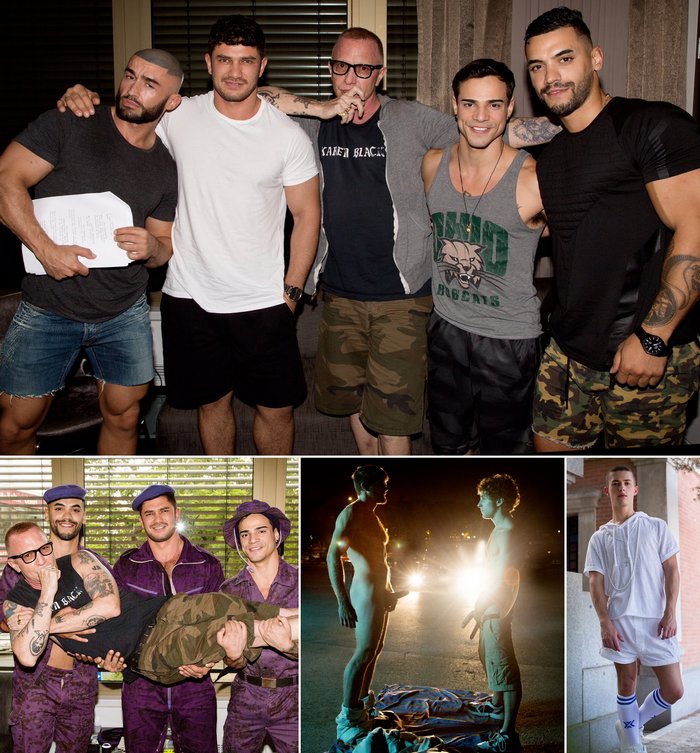 I reported last month that CockyBoys and Bruce LaBruce are collaborating on a short film anthology. Queer Me Now has many behind the scenes pictures from their shoot in Madrid here. They are now on locatin in Berlin, Germary filming two more short films starring Francois Sagat, Colby Keller, Dato Foland, Sean Ford, Allen King, Levi Karter, Arad WinWin & Calvin Banks. Check out some behind the scenes pictures and press release below. These short films will be released this October.
[USE THIS LINK] To Get 50% OFF CockyBoys Membership.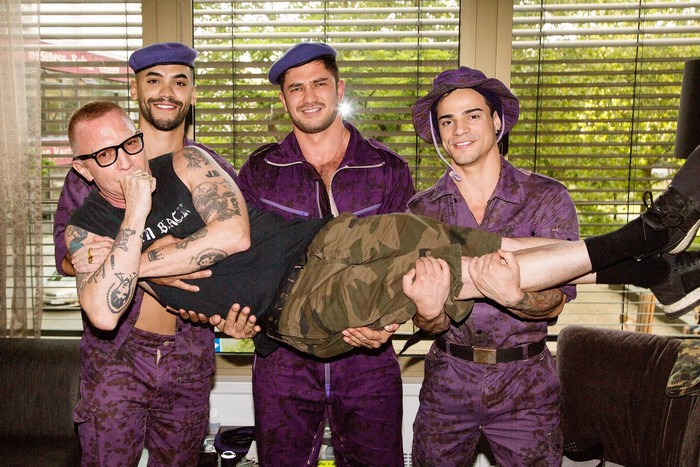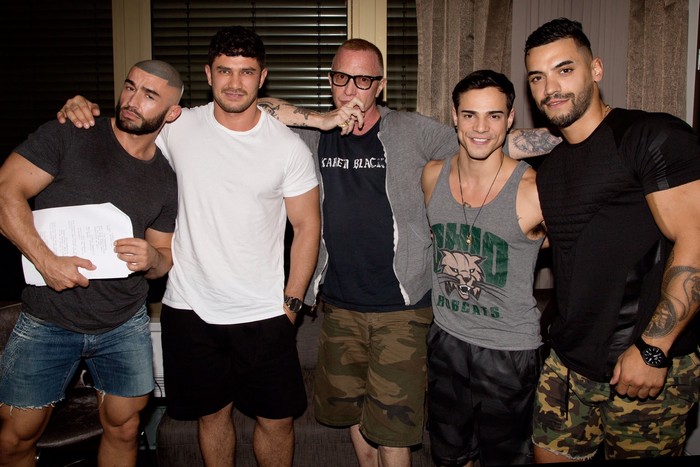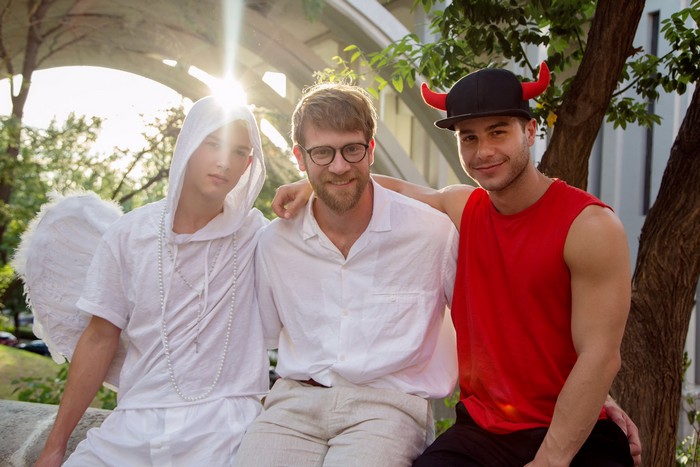 CockyBoys is thrilled to announce an one-of-kind collaboration with iconic writer and filmmaker Bruce LaBruce, who has built a career exploring themes of sexual and interpersonal transgression against cultural norms. He's known for frequently blending the artistic and production techniques of independent film with gay pornography not unlike that of CockyBoys' owner and acclaimed director Jake Jaxson. This short film anthology is LaBruce's first gay adult project since LA Zombie over 7 years ago.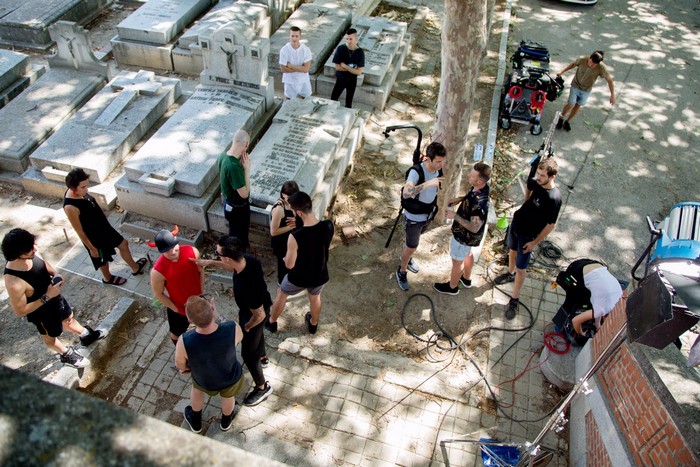 Jake Jaxson is currently on location in Berlin along LaBruce and an all-star cast and production team producing an anthology of four short films by LaBruce featuring a cast of true superstar performers including: Gay Porn Legend Francois Segat, Colby Keller, Dato Foland, Arad WinWin along with CockyBoy Superstar Exclusive's Sean Ford, Levi Karter, Calvin Banks and Allen King.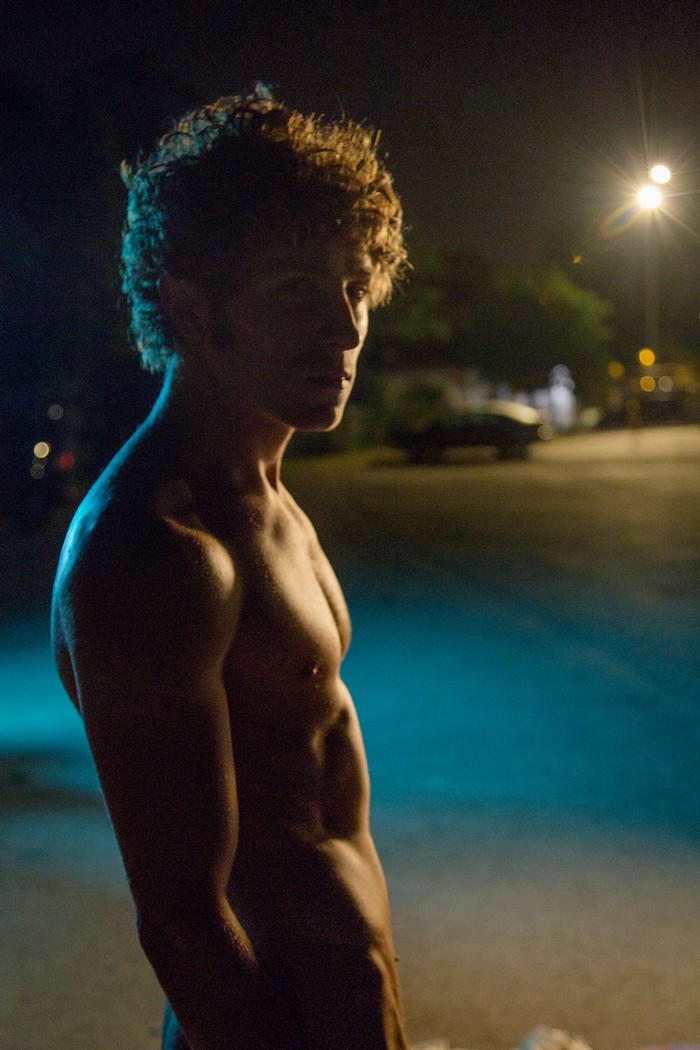 Jake Jaxson says of working with Bruce LaBruce, "Working with Bruce on this anthology is a dream come true. I have been a fan of his work from the first time I saw Hustler White. A few years ago we met at a retrospective of his work at The Museum of Modern Art, in New York, and since then we had discussed ways to possibility work together. So a few months back he sent me some scripts to consider, and it was everything I have always loved in his work – irreverent, satyrical, funny and sexy. And once we added some of our performers to the mix, I was all in. I'm thrilled with what they have been shooting and what's to come — a true Bruce La Bruce film experience for both our performers and our members!"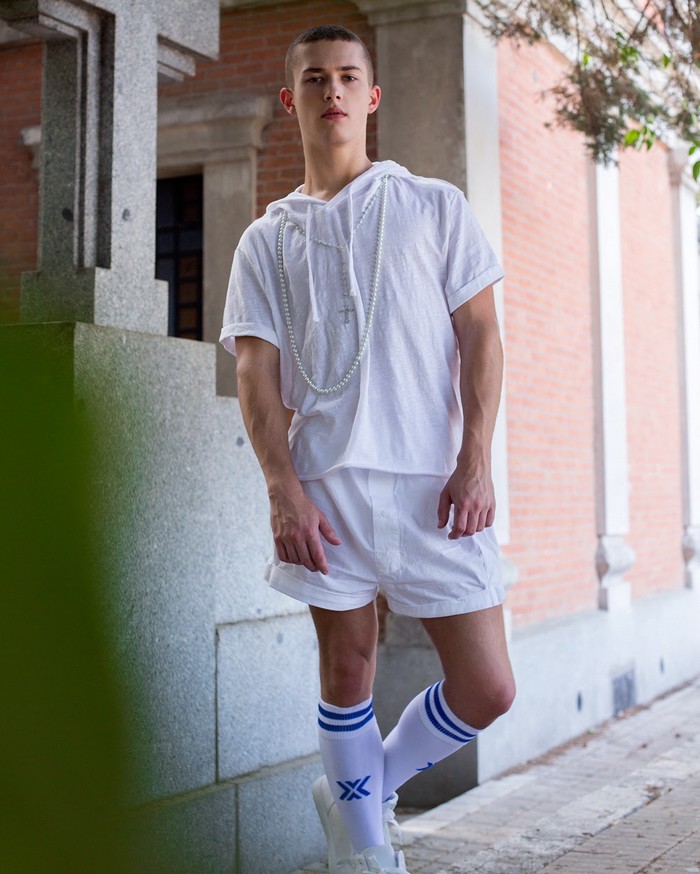 The first two films were shot on location in Madrid, Spain and the final two are being completed now in Berlin. The first to shorts will premiere only on CockyBoys the last week in October with the final 2 short films being released before Christmas. The DVD of the as of now untitled Bruce LaBruce CockyBoy's anthology will be released before the end of the year.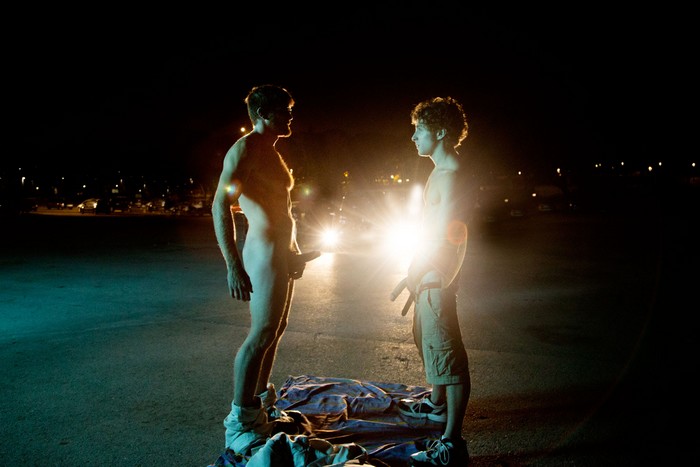 "Since the release of his achingly sexy 1991 film No Skin Off My Ass, we at TLA have been huge supporters of Bruce LaBruce," said Erik Schut, Managing Director and CMM at TLAgay.com. "From his classic Tony Ward-led Hustler White and Raspberry Reich to his forays into the word of actual all-male porn with the explosive Skin Gang and erotically blood-soaked L.A. Zombie starring Francois Sagat, all of his films are unique experiences. He's a true visionary, and his films never cease to amaze, antagonize, challenge, confront, rile up, teach and entertain. What more could one want from an artist?" Schut continued: "As a retailer, the fact that Jake Jaxson and LaBruce are now collaborating on projects feels like artistic destiny. As a fan, this collaboration fills me with kick-ass excitement! New Queer Cinema is about to be upended and reinvented."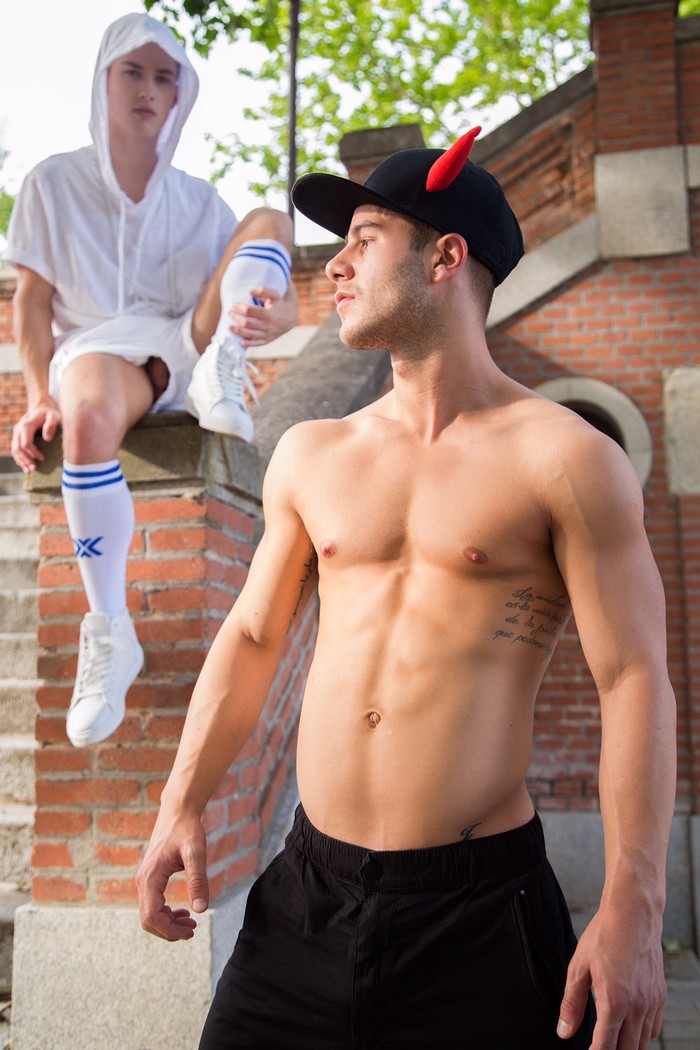 Bruce LaBruce says, "I've always been intrigued by the CockyBoys brand, and as I like to keep my hand in the porn biz, I met with Jake and the boys in the spring in New York to discuss a collaboration. Jake is always open to new ideas, so I proposed a kind of omnibus film, a package of four short films with interrelated themes. Things move fast in the porn world, so we shot the first two films in Madrid in early June, and now two more in Berlin in July. We flew in some of my very favorite CockyBoys, including Colby Keller, whom I had been eager to work with for some time. The concept includes more high-end production values than are usually found in porn, with an emphasis on characters and narrative. The resulting four films – Diablo in Madrid, Uber Menschen, The Purple Army Faction, and Fleapit – represent an attempt to return to more classical forms of porn storytelling.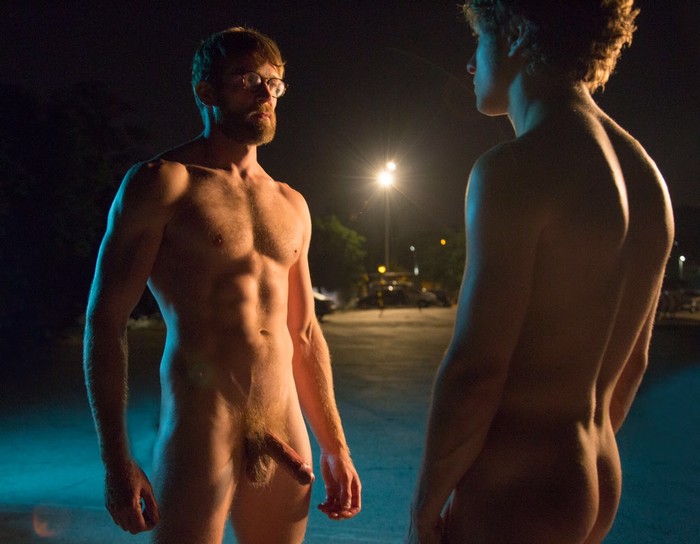 See all the shorts in this sure to be unforgettable anthology exclusively on CockyBoy.com this October!
[USE THIS LINK] To Get 50% OFF CockyBoys Membership.

PREVIOUS POST: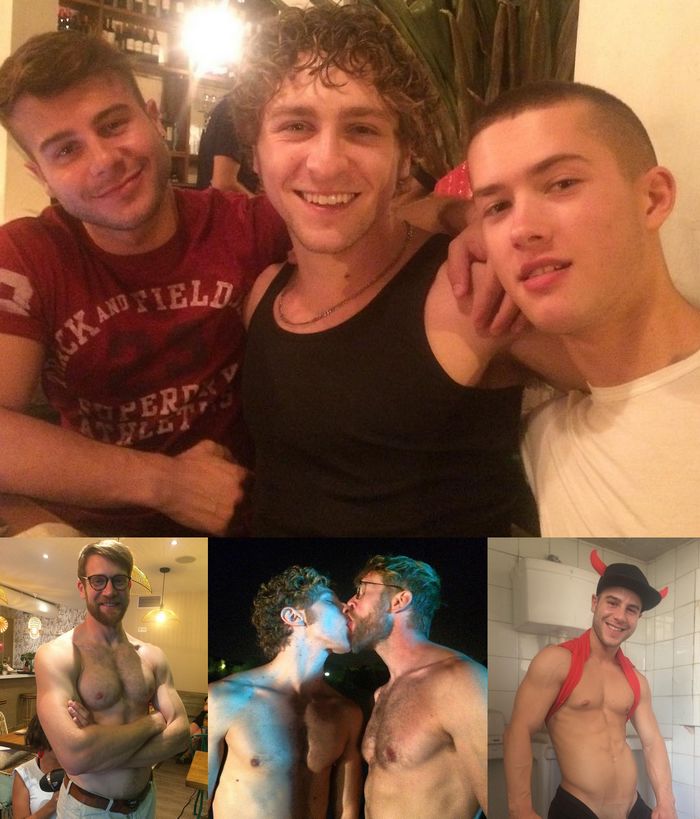 + CockyBoys' Colby Keller, Allen King, Calvin Banks & Sean Ford In Madrid Filming A Short Film with Bruce LaBruce