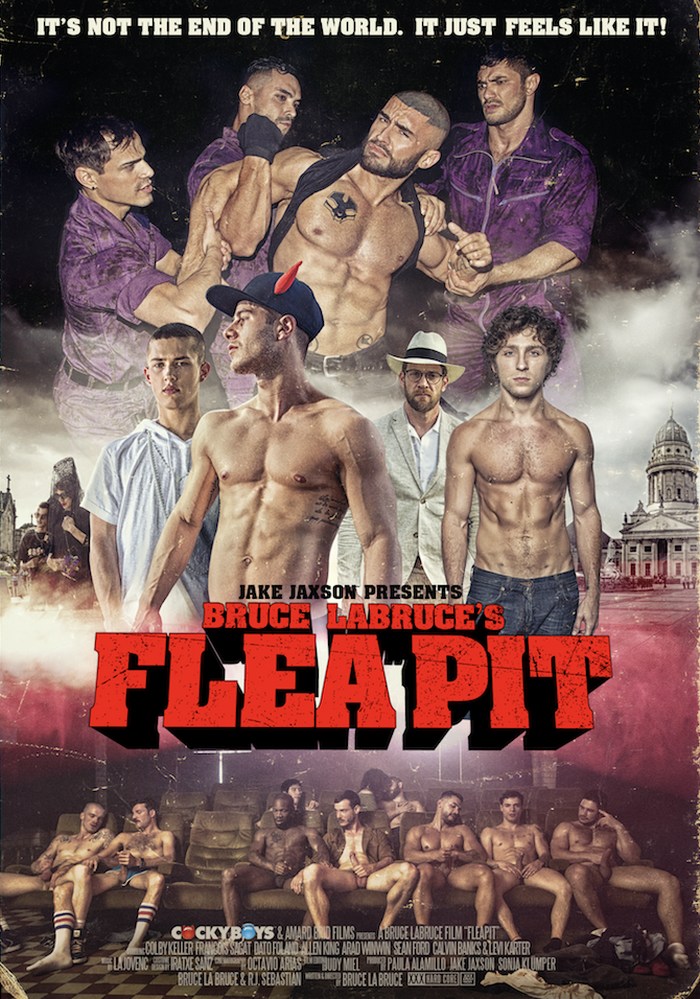 CockyBoys released Diablo In Madrid, the first of its gay porn anthology in collaboration with Bruce LaBruce back in October last year. Now the second installation FLEA PIT is online. FLEA PIT is also the name of this anthology which consists of Diablo In Madrid, Flea Pit, Uber Menschen, and PAF: Purple Army Faction.
FLEA PIT is an epic orgy in movie theater starring gay porn stars Arad WinWin, Dato Foland, Levi Karter, Valentin Braun, and more.
[USE THIS LINK] To Get 50% OFF CockyBoys Membership.
Inside an sparsely attended art house cinema screening of "The Raspberry Reich" one lustful gaze from one patron to another sets up a slow motion domino effect of side-eye looks and seat fidgeting. The moans and groans on the screen stir the libidos of the various patrons even more, the looks become more intense and a few of the movie-goers begin to make some bold moves.
Cocks are pulled out in one area of the theater and a couple guys start jerking off while a couple starts making out in another section. Hands begin to wander and grope, eyes shift around, voyeurs and exhibitionists make their furtive moves, and soon the movie on the screen is of little interest to the theater goers. For the anonymous pair jerking off turns to bold cocksucking in plain view while the couple that was making out are also now sucking cock.
Pairings are altered, people change seats to find partners for their desires and soon a rising tide of lust engulfs almost everyone with full-on sex. A handful of brazen men get up on the stage to continue fucking and provide a sex show for an audience of four. The uninhibited sex leads to a line-up of jerking off with euphoric cumshots and the audience of four can only slightly squirm in their seats watching a double-exposure sex show, unsatisfied by not participating.
[USE THIS LINK] To Get 50% OFF CockyBoys Membership.