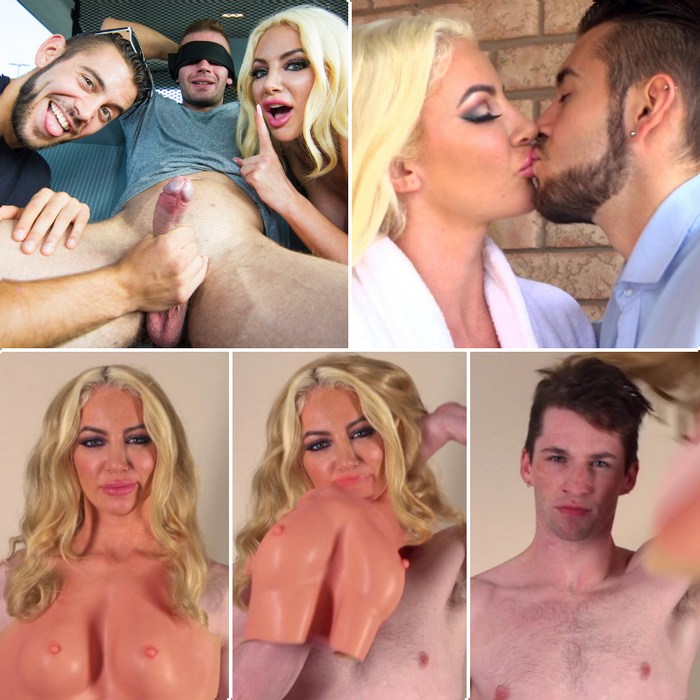 Men.com puts gay porn star Dante Colle and female porn star Nicolette Shea together in two sex scenes this weekend. First, in a bait and switch situation on Str8 Chaser that ends with Dante Colle bottoming for hunky Charles Knight. Are they bringing back Bait Bus? And on Men.com where Thyle Knoxx impersonates Nicolette Shea with a with a realistic bodysuit, this time Dante Colle fucks Thyle Knoxx.
Beautiful, busty bombshell Nicolette Shea persuades muscular Charles Knight with some coin to get in her ride so she can suck his dick. Blue-eyed Charles accepts her offer, but little does he know it's all a set up for chiseled beau Dante Colle to get his dick inside his eager, wet mouth, and inside his tight, horny hole. The straight hunk tops Dante doggystyle, and pumps his ass deep and hard.
+ Dante Colle, Nicolette Shea & Charles Knight in Str8 Chaser: Charles
Tall, slender Thyle Knoxx has been crushing on his new neighbor, dark and handsome Dante Colle, since he first noticed him. Blue-eyed Thyle devises a plan to impersonate his wife with a realistic bodysuit and sneaks into the house to wait for tattooed Dante to get home. Chiseled Dante is pleasantly surprised to find his wife waiting for him in bed until he realizes it's actually his neighbor, Thyle! Horny Dante decides to give in to his curiosity, and pleases his big, thick cock with Thyle's slobbering mouth and tight hole.
+ Dante Colle Fucks Thyle Knoxx in Cheaters Part 3
Here are other sex scenes from Men.com this week:
Good-looking Jake Porter is experiencing some writers block while working on his creative assignment. He heads inside to speak with his muscular, hairy roommate, Ricky Larkin, who is busy cleaning up butt naked, with his headphones on full blast. Lean Jake surprises him and offers to keep Ricky's cleaning routine a secret if he lets him suck his dick. Ricky agrees and eventually fucks dark-haired Jake's eager bottom.
+ Jake Porter Bottoms For Ricky Larkin in Writer's Block
Tall and handsome Alex Mecum invites dark-haired Derek Allan over to help him put on a sexy cam show. Muscular Derek pulls out Alex's thick, long cock and sucks as hard as he can. Satisfied with his effort, hairy-chested Alex shoves his tongue between Derek's bubble butt and primes his hole for a drilling. Little do they know blue-eyed Charles Knight is watching and touching himself as the whole thing goes down!
+ Alex Mecum Fucks Derek Allan in Private Show
Attractive Brandon Evans is trying to sell some products to fit, good-looking JJ Knight, but slender JJ isn't really into it. Muscular Brandon skips the sales pitch, strips down and props his ass up so JJ can tongue punch his hole and loosen him up with his finger. Blue-eyed Brandon sucks on his massive, thick cock before collapsing onto JJ's throbbing cock and riding him.
+ JJ Knight Fucks Brandon Evans Bareback in Blow It Part 2
+ MEN.COM