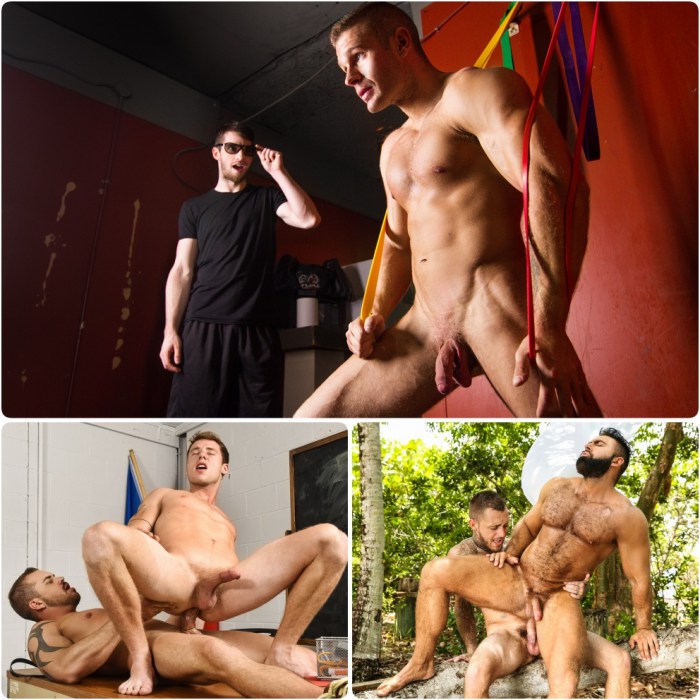 This month Men.com offers a VIP SALE with 80% OFF regular membership. [USE THIS LINK]
They are about to release a funny scene called XXX-Ray in which Thyle Knoxx uses a pair of x-ray glasses to see Charles Knight naked. Of course the scene ends with Thyle Knoxx getting fucked by Charles Knight. And don't forget to check out: Steve Roman bottoms for Brian Michaels in Coast Guard Part 1 and Darin Silvers fucks Justin Matthews in The Disciplinarian.
Bearded hunk Steven Roman is trying to get his heavily tattooed informant, Brian Michaels, to give up some information for his investigation. Tall, blue-eyed Brian agrees to help if he can get a blowjob in return. Beefy Steve accepts the terms and gets right into it sucking and slobbering on Brian's big dick. Brian isn't completely satisfied until he's rimming Steve's big, muscular, bubble butt and digging his ass out as deep as he can. Will Brian actually give up the info?
+ Steve Roman Bottoms For Brian Michaels in Coast Guard Part 1
Beefy Darin Silvers and athletic Justin Matthews are sitting in class quietly working on homework. They break the silence to talk and brown-haired Justin explains what he did to get in trouble. Tattooed stud Darin is shocked that all he got was detention so he grabs ahold of Justin bends him over the teacher's desk and spanks his ass. Darin tells him he's giving him the punishment he deserves and Justin likes it so much that he asks him to do it again.
+ Darin Silvers Fucks Justin Matthews in The Disciplinarian
Blue-eyed Thyle Knoxx has a pair of x-ray glasses and he can't wait to test it out on the guys at the gym! He sets his sight on chiseled and toned Charles Knight who's hung, uncut dick has him yearning for a proper dick down. The tall and horny stud corners Charles in the locker room and offers the tattooed hunk a better way to cool down!
+ Charles Knight Fucks Thyle Knoxx in XXX-Ray
Men.com VIP SALE 80% OFF Regular Membership [USE THIS LINK]