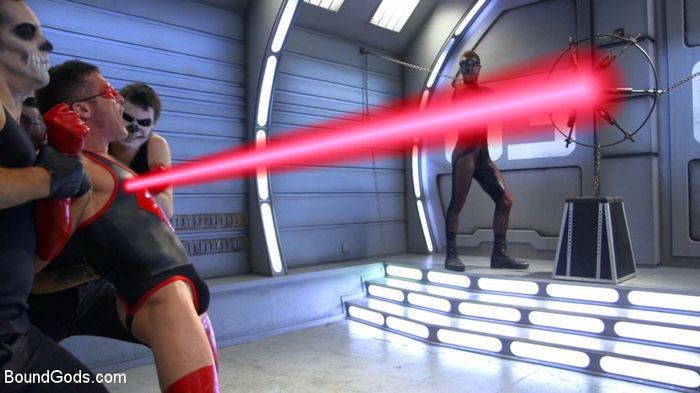 Two more superhero-theme gay porn videos were released this past weekend. Lance Hart plays The Kink Avenger while Scott Ambrose plays The Orgazmatron in the new video Kink Avenger – Breaking Point from KinkMen. Check out this scene hunky Scott Ambrose tortures and fucks Lance Hart.
Continue from the Daredevin gay porn last week, now you can watch Superman (Colby Chambers) fucks Mickey Knox bareback.
Defeated by The Orgazmatron, our hero Kink Avenger is dragged off to the evil Sado-Spectre's secret lair. The bound superhero endures electric punches to the torso and a cruel edging, before getting a face full of villainous cum. His torment continues as Sado-Spectre administers a merciless flogging and ramming his hard cock down the Avenger's throat. Unwilling to submit, Kink Avenger suffers the electric zapper as it shocks all over his body. Barely standing, the defeated hero is bent over for a hard pounding, before he's made to shoot his superhero cum all over the floor.
+ Bound Gods Presents: The Kink Avenger – Breaking Point
As a boy growing up in this chaotic world I looked to one man. His abilities defy reality as we know it. His powers rival the Gods. In a time of suffering and pain he is there to protect the Vulnerable. No wonder I've always wanted to give myself to him. To give my body, my soul, Everything I'm capable of giving. At first he was a symbol of Hope. A Hero that could actually make a difference. Now, he is a obsession. My hero creeps into my dreams , occupying my every thought. If i could only show him how much i care. If i could only touch him once. I hope he understands my loyalty, I hope he understands my dedication. Some people have religion, Some people have faith. I have you, My Hero.
+ Superman (Colby Chambers) Fucks Colby Knox Bareback at COLBYKNOX.COM