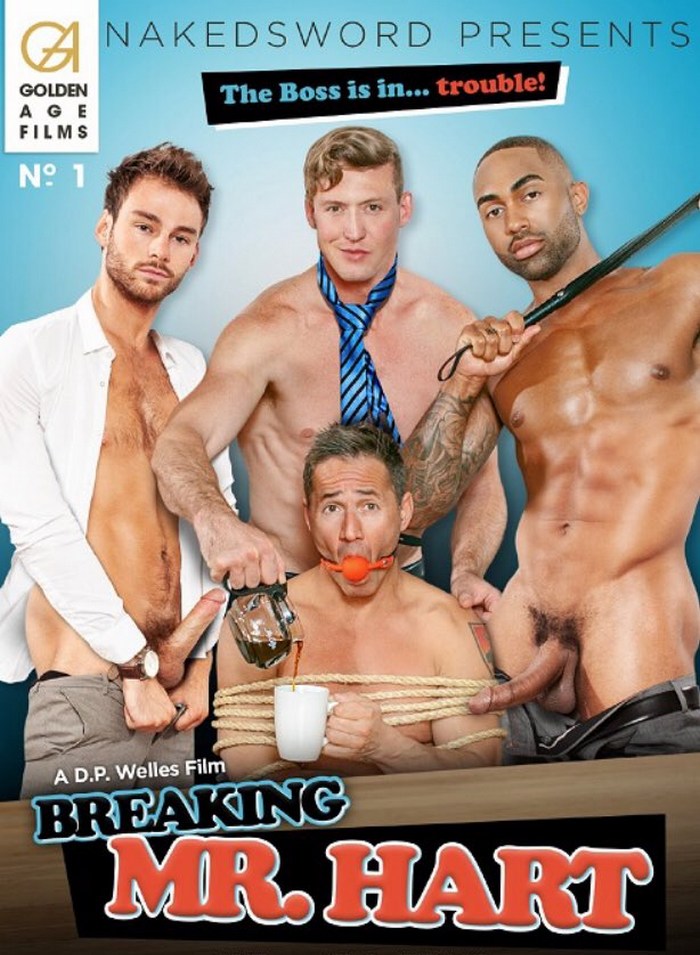 After releasing its first bareback gay porn movie Loving Brent Corrigan, NakedSword Originals followed with BREAKING MR. HART, a gay porn parody to the 1980 comedy film 9 To 5 (I never heard of it)
It's the debut feature of Golden Age Films by filmmaker D.P. Welles (who wrote multiple movies like UltraFan, Earthbound, Trapped, Paris Perfect, etc.) and starring Pierce Paris, Max Adonis, Remy Cruze, Damon Heart, Dean Phoenix, and Falcon Exclusive Woody Fox with special appearance by Nina Hartley.
In this first scene, the boss Mr. Hart played by Dean Phoenix fucks Max Adonis bareback.
What do you do when you're stuck working nine to five for a sexist, egotistical, lying hypocritical bigot? You get together with your co-workers to devise a plan to turn the tables and stick it to him just as hard and deep as he's stuck it to the office for years! Jake (Pierce Paris) has had enough of his boss Mr. Hart's (Dean Phoenix) sexual games. He arranges to meet with two other victims, Rod and Victor (Max Adonis, Remy Cruze) and persuade them to join together to pay him back for what he's done to all of them. As they tell their stories we meet another victim, Cole (Woody Fox) and the boss' accomplice, assistant Darren (Damon Heart), but the key to everything may just be the boss' wife Missy (Nina Hartley)! Will their plan go off without a hitch or will they find themselves in more trouble when they try BREAKING MR. HART.
Rod tells the guys about his encounter with their boss, Mr. Hart. Rod is made to strip naked in front of his leering eyes. Then when they both end up naked in the pool, the boss gets a feel for his employees cock before sliding it down his throat. After a close call nearly getting caught, they move to the lawn and Hart gives his worker a deep workout with his big cock.
+ Dean Phoenix Fucks Max Adonis Bareback in Breaking Mr. Hart Scene 1