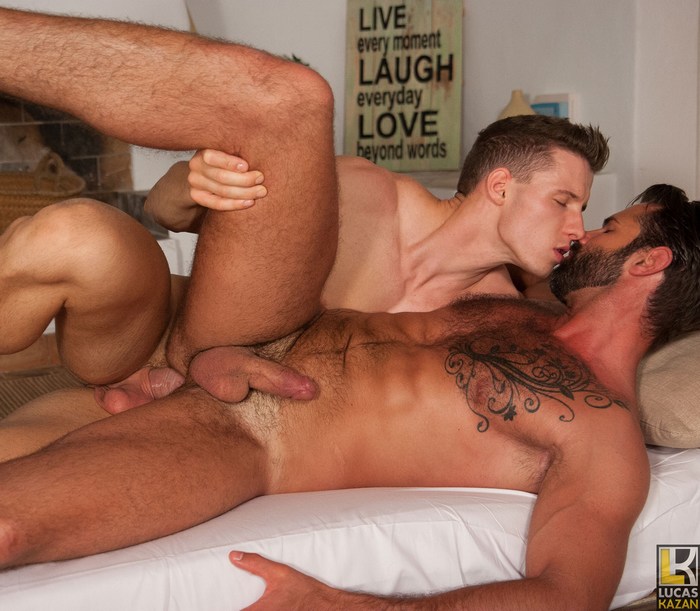 Last May, I posted some behind the scenes pictures of BelAmi models Jon Kael & Joaquin Arrenas with Spanish gay porn stars Dani Robles, Angel Cruz, Hector de Silva as they were filming a new gay porn movie in Ibiza.
The first scene of WHEN IN IBIZA, Jon Kael fucks Dani Robles is now online. You can also watch exclusive behind the scenes video on the director Ettore Tosi's JustFor.Fans page.
BelAmi Gay Porn Stars Jon Kael and Joaquin Arrenas with Dani Robles, Hector De Silva & Angel Cruz
+ Watch Behind The Scenes Video of WHEN IN IBIZA on Ettore Tosi's JustFor.Fans
+ Check Out Gay Porn Stars & Hot Guys' Sex Tapes On JUSTFOR.FANS
This Summer everything changed. For me. For my best friend Hector. For his son… And for my son". While on vacation in Ibiza, Dani Robles can't help falling for his best friend's son, handsome Jon Kael (on loan from BelAmi). 'Daddy' Hector De Silva spies on, at once bewildered and electrified. "Ever since my debut in Hotel Italia", says director Ettore Tosi, "we've been exploring inter-generational sex. And what better way to do so, than pairing a smooth BelAmi jock with a hairy, bearded, sexy Spaniard?" Stay tuned for part II and III of this on location mini-series, kicking off LucasKazan's 20th anniversary.
+ Jon Kael Fucks Dani Robles in WHEN IN IBIZA I
+ More of Jon Kael | Dani Robles