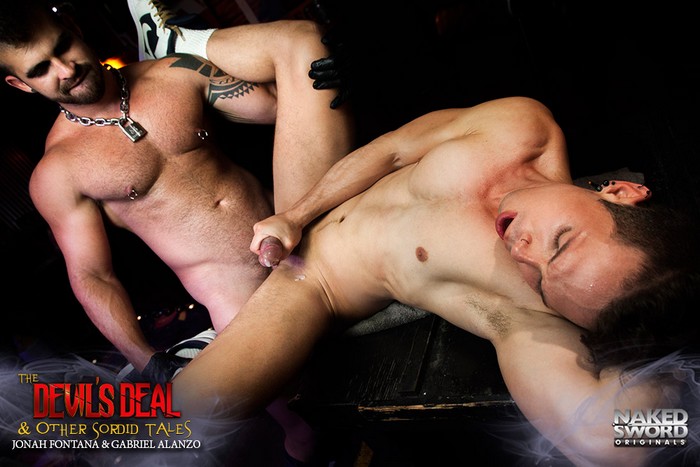 Jonah Fontana plays the title role of the Devil in the premiere of NakedSword's Halloween movie The Devil's Deal & Other Sordid Tales. Gabriel Alanzo plays a go-go dancer who summons the Devil. You know what happens next, Gabriel Alanzo gets fucked by Jonah Fontana.
The Devil @xxxJonahFontana Fucks The Cum Out of @GabrielAlanzo1 in @Naked_Sword The Devil's Deal #GayPorn

HERE ? (https://t.co/fsxeUa00Si) pic.twitter.com/pwpVcPPnGy

— Queer Me Now (@QueerMeNow) October 11, 2017
A handsome youth-obsessed go-go dancer (Gabriel Alanzo) summons the Devil (Jonah Fontana) to make a deal. He'd like to offer his soul in exchange for eternal youth and beauty. The Devil accepts his offer – but first instructs the hot young stud to suck his cock. After a brutal ass fuck the young man thinks he's paid the price but there's always hell to pay when you're dealing with the Devil.
+ Jonah Fontana Fucks Gabriel Alanzo in The Devil's Deal & Other Sordid Tales
+ More of Jonah Fontana | Gabriel Alanzo