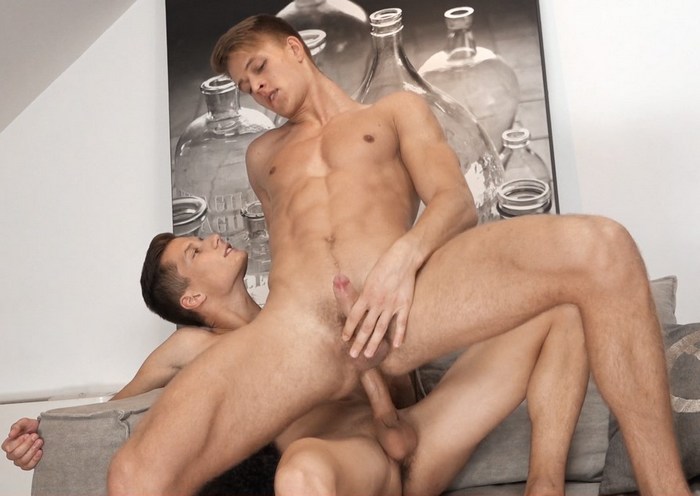 They paired hot BelAmi gay porn star Nils Tatum with hung Mael Gauthier in this weekend's update. Mael Gauthier fucks Nils Tatum hard and raw, Nils cums while getting fucked in the first of three sex positions. 🙂
Don't forget to check out these hot sex scenes too: Bastian Dufy fucks Michel Seberg and Rocco Alfieri bottoms for Antony Lorca.
Early morning fucks can be the best thing, especially if your partner is Bastian Dufy, as Michel Seberg finds out in today's scene. Although Bastian is definitely one of our more 'well endowed' models, Michel has no problem taking all of him, and with very apparent pleasure.
+ Bastian Dufy Fucks Michel Seberg Bareback
As the opening of this clip illustrates perfectly, Rocco and Antony are visually the perfect couple. The bodies of gods, the faces of angels and dicks that create desire at every viewing. We start our scene off in the morning as the couple beginning the day in the most romantic way possible: kisses and caresses lead seamlessly to oral and rimming and back again to kissing before our hunks have worked themselves up to the main event. This is one of our most romanticly endearing and sexy scenes and a change of pace to some of the more energetic fucking we have had recently.
+ Rocco Alfieri Bottoms For Antony Lorca
Our Hungarian boys always hold a special place in all our hearts, and today we have asexy newcomer Mael Gauthier together with Czech dreamboat, Nils Tatum. Every now and then our directors decide to include a bit of food in their foreplay and here Lukas Ridgeston has decided to have Maqel tempting Nils with an apple, although, considering how Nils is dressed, he certainly had sex on his mind even before he walked in the door. Nils is the bottom for this scene and certainly enjoys the 'extra large' attention that Mael gives him.