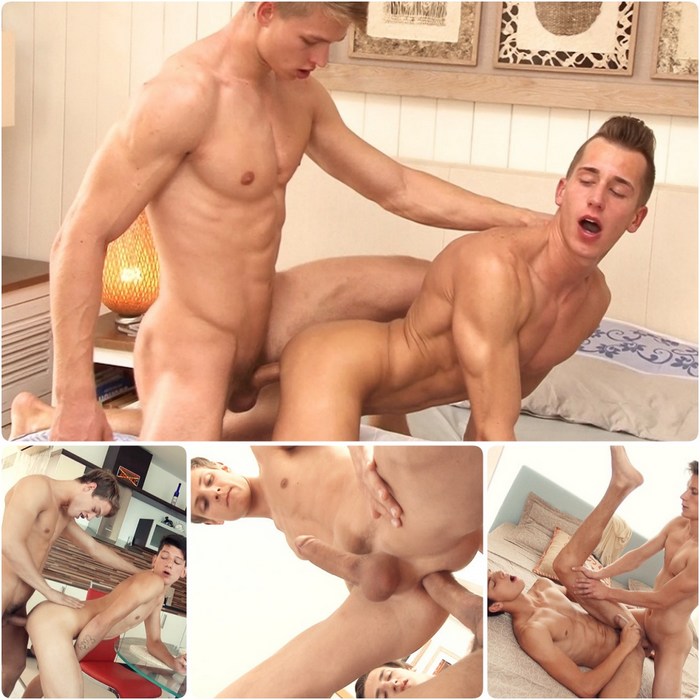 Nice to see ripped bottom Raphael Nyon in action again. If you enjoy him bottoming for Kris Evans and Helmut Huxley in his previous scenes, don't miss his latest scene from BelAmi where Raphael Nyon gets fucked raw by Nils Tatum.
This week FRESHMEN celebrates its issue #100 with 3 bareback sex scenes starring Nino Valens, Mael Gauthier, Liam Efron, Nate Donaghy, Orri Aasen & newcomer Dean Cullen.
Our introductory scene is an All-Hungarian one featuring Nino Valens and Mael Gauthier. At the time, Mael did not have a stage name, so Nino calls him Tom for convenience. Mael is brought to us by Nino's horniness and his penchant for picking up cute boys in the park. Always greedy for dick, Nino confesses to keeping Mael to himself for six months prior to sharing him with us. Mael lets Nino guide him as this is his first time in front of the camera and first scene.
+ Mael Gauthier Fucks Nino Valens Raw
We depart our Hungarian hotties for some Czech cuties in our second scene this week featuring Liam Efron and Nate Donaghy. Liam, of all our models, has two traits that are ideal for a would-be porn-star: he is an exhibitionist and he is always horny. So, it's not surprising that Nate catches him jerking off by himself in front of the camera. What is surprising is Liam's willingness to let Nate take the lead, electing to sit back and enjoy whatever Nate wants to do to him. Perhaps he enjoys it too much as Liam- like Nino in the scene before this- cums earlier than expected. Is their inability to hold off a manifestation of how much they enjoy getting fucked? Or is it a testament to how good their partners are at topping? We're not sure.
+ Liam Efron Bottoms For Nate Donaghy
Our third hardcore scene this week features Orri Aasen and newbie Dean Cullen in a scene that falls into the "Flirting with Freshmen" category. It's too bad that Dean decided to cut short his porn carreer as he is outgoing and confident and comfortable performing sex on camera. His youthfulness, slim physique, handsome appearance and willingness to get fucked are a pleasure to watch. To top it all off, he has a spectacular cumshot. What a complete package!
+ Orri Aasen Fucks Newbie Dean Cullen Bareback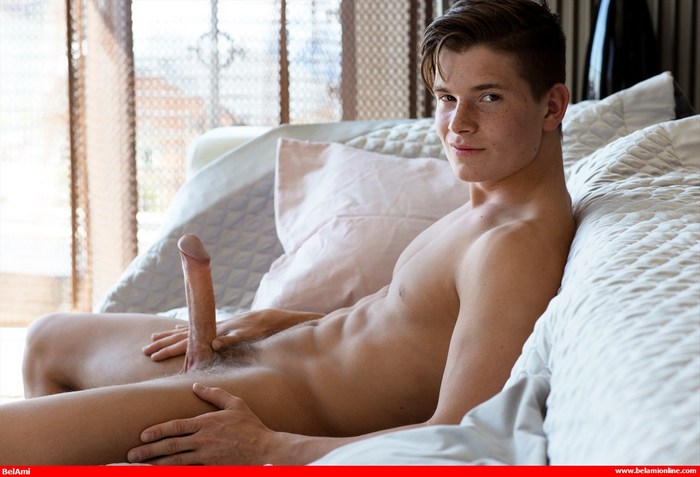 It seems from comments in the preview that many of you have been waiting to see more of Kian O'Connor. Kian is one of our new Hungarian models, but instead of fitting the form with dark, brooding and sensual looks, he is fair, freckled and intensely sexy. Kian will be back in action here in October, and you will also see more over him this year on our sister site, Freshmen.net.
Sometimes there can be nothing more arousing than a sensual massage from a hot guy. Today Nils find that out for himself as he gets a rub down from sexy Hungarian Raphael Nyon. However what starts 'innocently' enough does not stay that way for long, and soon enough Nils needs to find a use for his raging hard-on. It is the happiest of 'Happy Endings' when both the giver and receiver of the massage end up shooting loads of cum all over each other.
+ Muscle Bottom Raphael Nyon Gets Fucked Raw By Nils Tatum