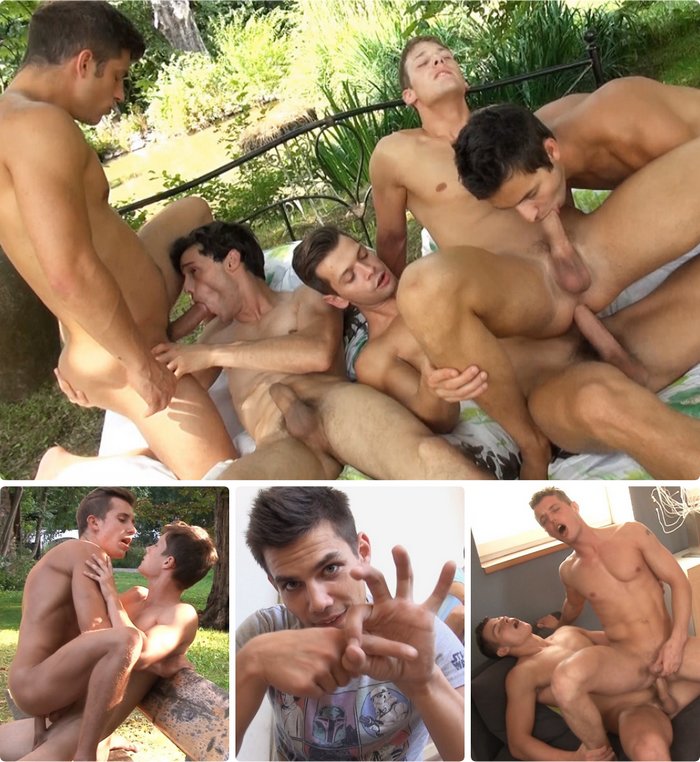 BelAmi just released episode 12 of SUMMER BREAK gay porn behind the scenes documentary. This one shows us the funny things that happened during the filming of two sex scenes: Miguel Estevez bottoms for Adam Archuleta and Marcel Gassion Birthday Gang Bang.
And be sure to check out these hot fuck fest: Raphael Nyon bottoms for Mael Gauthier and Jeroen Mondrian fucks Steve Peyroux bareback.
Who wouldn't want a gangbang for their birthday? In this week's summer break that is exactly what Marcel gets…. the gift of his dreams. From reading your comments over the past 2 months we have noticed a bit of a theme, highlighted by StrikingViking last week.. 'get Kevin naked and in front of the camera'. In principle SV, we totally agree, but then we would really not have any documentary to show you. Most of the diaries are filmed by Kevin as he seems to be the most talented of our new cameramen and he is still 'one of the boys' as far as all the other models are concerned (We would certainly not get such playful material if we used one of our older cameramen). So we hope you all understand our decision here, but don't worry too much, Kevin still pops in front of the camera regularly, so we won't be missing out on the part of him either.
+ Watch SUMMER BREAK Gay Porn Behind The Scenes Documentaries on BELAMIONLINE.COM
Freshmen members got a taste of Mael a bit early when we gave you his photosession with Nino Valens. Today we have his premiere scene as part of our 'Summer Break' series. Mael is one of our new hung Hungarians and we will be very happy to hear what you think of him. In today's scene his is paired With Raphael Nyon.
+ Raphael Nyon Gets Fucked Raw By Mael Gauthier
It's been a while since we have had Steve Peyroux in a scene here on BelAmiOnline, but today he is back with Jeroen Mondrian. Steve seemingly has earned himself a bit of a reputation in the company as the 'group sex' guy,as a result of his love of bottoming, but today he has turned up a bit to early for the action so Jeroen decides to try him out on his own to see what all the fuss is about…