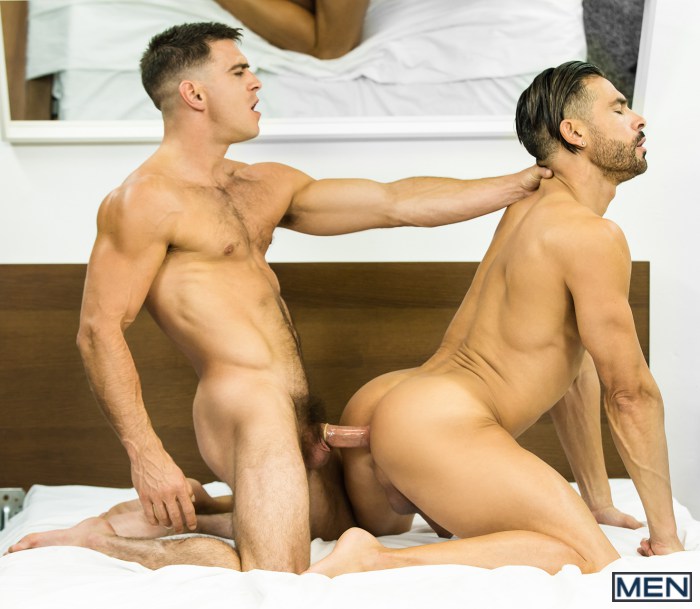 This new scene is going to please many fans. As I reported last month, gay porn star D.O. has returned and topped Pietro Duarte in his comeback scene. This Sunday August 12, D.O. will show us again that he also looks amazing as a bottom too. His scene partner this time is gay porn star Paddy O'Brian. It's super hot to see Paddy O'Brian suck D.O.'s huge cock, rim his ass & fuck him until both of them cum.
Don't forget to check out the XXX trailer of TELENOVELA Part 2 in which Klein Kerr bitch-slaps Massimo Piano while he's riding Lucas Fox's cock. (I didn't make that up!)
Dark-haired Klein Kerr is having dinner with his beefy boyfriend, Massimo Piano, and their tall, handsome friend, Lucas Fox. Klein suspects something is going on between the two muscular men and is shocked to find his chiseled boyfriend riding Lucas's big, uncut dick. Upset, the toned cutie grabs Lucas's dick and starts to deep throat it in front of Massimo. Soon, all three men get a turn at getting their asses spread open for some rimming and ramming.
+ Klein Kerr, Lucas Fox & Massimo Piano 3-Way in TELENOVELA Part 2 [August 11]
Irish stud Paddy O'Brian cannot wait to get inside of muscular D.O.'s ripe bottom! It's the dark-haired hunk's first time as a full bottom and he couldn't be happier getting his bubble butt topped by one of the best! Chiseled Paddy takes his time priming tall and toned D.O.'s asshole before giving him his big dick and the best first time experience!
+ D.O. Bottoms For Paddy O'Brian in TRUE ONE [August 12]