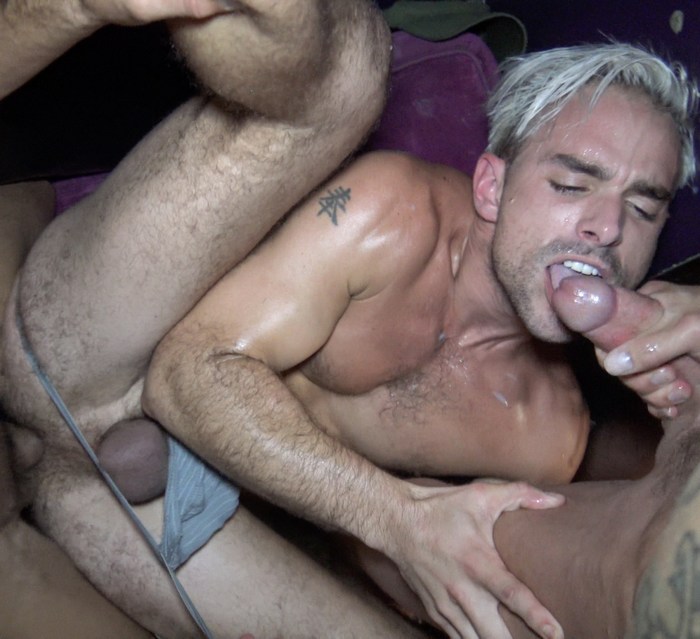 Hot Reality TV Star Patrick McDonald from Logo's Fire Island is a fan of bareback porn website Raw Fuck Club and he is about to make gay porn debut in an upcoming FIRE ISLAND FUCK BOY movie. He goes by the porn name Ace Arborwood and gets gang-banged by 9 gay porn stars: Dolf Dietrich, Red, Champ Robinson, Yooper, Nate Stetson, Gabriel D'Alessandro, Hans Berlin, Nicko Wilder & Cris Knight. It will premiere tomorrow, November 15th on RAW FUCK CLUB. You can check out sneak preview below.
[UPDATE] Part 1 of Patrick McDonald (Ace Arborwood) Bareback Gang Bang is now online. Part 2 will be released next week on Thanksgiving.
When this sexy Reality TV star came to us saying he was a huge fan of Raw Fuck Club and it was his dream to get gang banged by as many of our studs as possible, we jumped at the opportunity to make his pig dreams come true. WOW what an energetic pig he turned out to be, taking care of a dozen guys! We were all so impressed with stamina and how well he could take care of dick after dick. A true porn star is born, breaking onto the scene in a big way, showing the world his true self, shameless, horny, and fucking hot!! The full scenes will be coming to RawFuckClub.com in November, and the DVD will follow by Christmas. We're sure you'll love this one from start to finish.
+ Patrick McDonald Bareback Gang Bang in FIRE ISLAND FUCK BOY Part 1