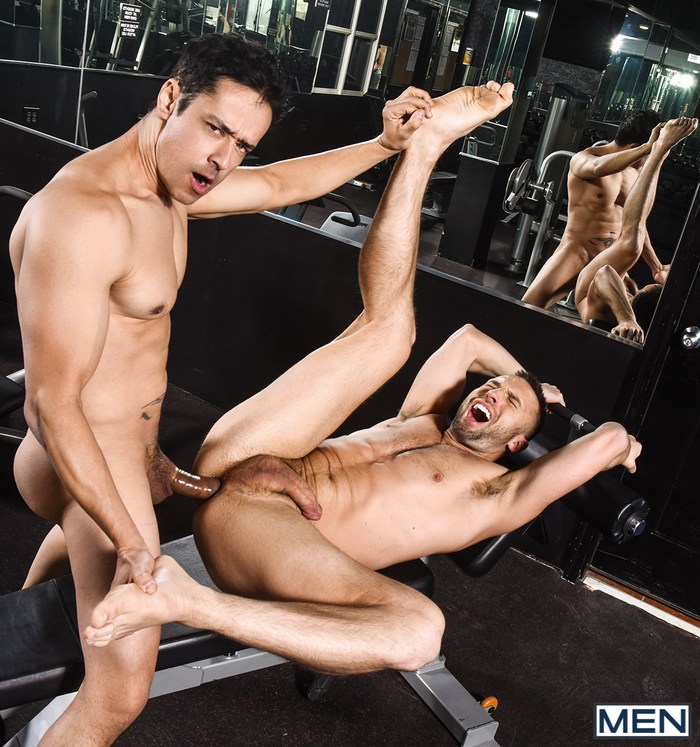 As I reported a couple of days ago, less than a year after giving his exit interview to Marc MacNamara and announcing his retirement from porn industry on May 2018, big-dicked gay porn star Rafael Alencar is now filming bareback gay porn movies for Lucas Entertainment in New York.
Men.com is about to release his official comeback scene tomorrow. The scene is called Endurance in which Rafael Alencar fucks Colby Tucker.

Marc MacNamara released an exclusive interview with gay adult superstar Rafael Alencar where he officially announces his retirement from porn on May 15, 2018.
A year later today, Rafael is official back to porn in a sex scene from MEN.COM.
Rafael Alencar is just trying to work out in peace, but everywhere he goes he's followed by muscle-bound stud Colby Tucker. The two athletic hotties compete to see who can endure longer. Naive Colby doesn't realize that Rafael is holding back from his true potential because he needs to save some energy to pound the hung jock's hole. Colby sucks Rafael's huge cock, marveling at the size and begging Rafael to shove the whole thing inside of him. Rafael is happy to oblige, stretching the fit stud's ass wide open, right there on the floor of the gym.
+ Rafael Alencar Fucks Colby Tucker In Endurance From MEN.COM