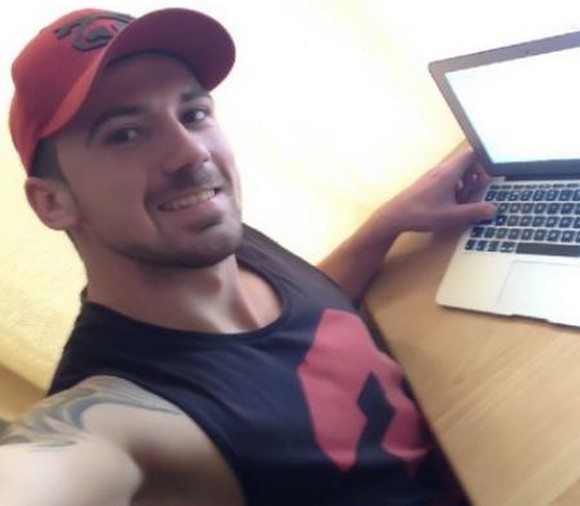 I was so lucky I got a chance to have a night out with this sexy porn star Marco Sessions in London, thanks to Chris Crisco of Lucas Entertainment 🙂
And I'm more than happy Marco took time off his busy schedules to answers these questions of mine in this exclusive interview for readers of Queer Me Now!
First, could you walk us through your "porn discography" so far? When did you start doing porn, what studios did you work with and your co-stars so far.
I HAVE STARTED DOING PORN IN MARCH THIS YEAR, FIRST SCENE WAS FOR FRESHSX.COM WITH MY MATE TATE RYDER, SO FAR I HAVE HAD WORKED FOR FRESH SX, UK NAKED MEN WITH PADDY O'BRIAN, VALENTIN ASLINA. MEN AT PLAY WITH DAVID DIRDAM, HARRY LOUIS, LUCAS ENTERTAINMENT WITH RAFAEL CARRERAS, WILL HELM, EDJI DA SILVA (UNRELEASED YET), ALPHA MALES WITH DOLAN WOLF, HOT SPUNK WITH PADDY O'BRIAN, MEN.COM WITH PADDY O'BRIAN, ISSAC JONES, HARLEY EVERETT, BRUNO KNIGHT and ISSAC JONES.
Now, let's get back a little further. Please tell us about your background before porn. Where are you from, where do you live now.
I'M FROM ROMANIA AND LIVING IN LONDON FROM 2008.
What was you like in high school? What did you do before porn? Have you ever dream to be a porn star?
HIGH SCHOOL ALL I REMEMBER IS THAT I WAS TALKING WAY TO MUCH 🙂 I ALWAYS WANTED TO DO PORN I WAS TO CRAZY ABOUT PORN.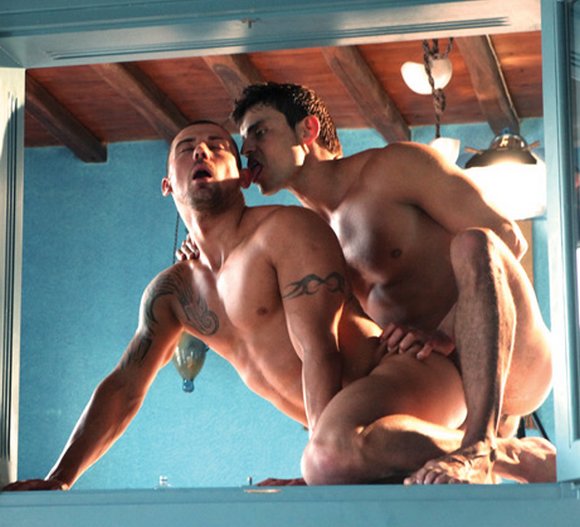 Do you have other jobs beside porn?
RIGHT NOW I STILL STUDY FOR MY PERSONAL TRAINER CERTIFICATE (HARDER THAT I THOUGHT) AND I'M A GOGO DANCER.
What was it like when you do your very first porn scene, first time on the porn set?
WOW FIRST TIME, OH BOI.. I WAS SO NERVOUS AND ALL THOSE LIGHT GUYS WITH CAMERA MICROPHONE, IT TOOK ME SOME TIME TO CALM DOWN AND GO WITH IT BUT I MADE A FRIEND, MY PARTNER WAS TATE RYDER.
How did you get your porn name?
EVERYONE CALLS ME "MARCO" FROM BACK HOME. EVEN IN LONDON, BEFORE PORN, EVERYONE KNOWS ME AS MARCO SO I DECIDED TO KEEP IT, "SESSIONS" COMES FROM MY EX PARTNER, HIS REAL LAST NAME IS SESSIONS.
You have an amazing body! What's your work out routine?
GYM ROUTINE I BET IS SAME AS ALWAYS REALLY, DIET AND PLENTY SUPPLEMENTS IS WHAT I'M CAREFULLY WITH.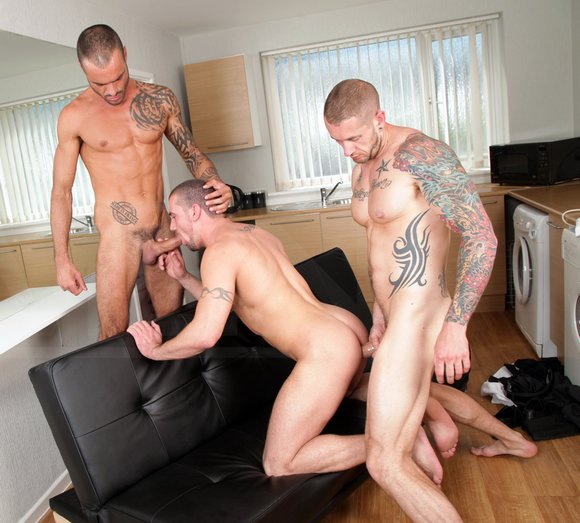 Please tell us about your tattoo.
MY TATTOO ON MY LEFT HAND IS THE SAME AS MY BROTHER HAS, WE DO NOT LOOK ALIKE AND ONE DAY BACK WHEN I WAS 16 WE DECIDED TO HAVE A COMMON THING SO WE HAVE DONE THE TATTOO 🙂 ONE ON MY ABS IS (SILLY ME) I WAS 20 AND I HAD A BOYFRIEND AND HIS NAME STARTED WITH "P" ( I KNOW I KNOW IT WAS FIRST LOVE 🙂 )
Could you tell us about the scar on your belly?
MY SCAR UHH, NOT A HAPPY MEMORY 🙁 I HAD A CAR ACCIDENT AFTER WHICH I WOKE UP FROM A 7 DAYS COMA AND HAD MY SPLEEN REMOVED.
You bottoms in all of your scenes, is that also what you prefer to do in your private life too?
NO, I'M QUITE VERSATILE, HOWEVER ON A RANDOM QUICK HOOK UP I'M MORE OF A BOTTOM, WHEN IT COMES TO DATE OR A RELATIONSHIP I'M SURELY TOTALLY VERSATILE.
What could you tell us about your private sex life? Are you gay, straight or bi? Single or taken? What are you looking for in a perfect date?
I'M DEFINITELY GAY. RIGHT NOW I'M SINGLE AND NOT DATING 🙂 PERFECT DAT? NOT HAVING ANY AGENDA.
Do you like watching porn?
I DO NOT WATCH MUCH PORN SINCE I DO PORN 🙁 (I KNOW I KILLED FANTASY BUT I PREFER TO LIVE IT)
Who's your favorite porn star? And please name porn stars you want to do a scene with in the future.
WOW HARD QUESTION. I HAVE MANY FAVORITE PORN STARS NOW, BUT I TELL U WHO WAS MY 3 FAVORITES BEFORE I EVER DID PORN, SPENCER REED, SAMUEL COLT AND JUNIOR STELLANO. I HAVEN'T HAD YET MEET JUNIOR BUT SAM AND SPENCE ARE 2 GREAT GUYS! REGARDS SCENES IN FUTURE WOW SO MANY I THINK I LEAVE THIS BLANK AS I DON'T WANNA MISS ANY GUYS OUT.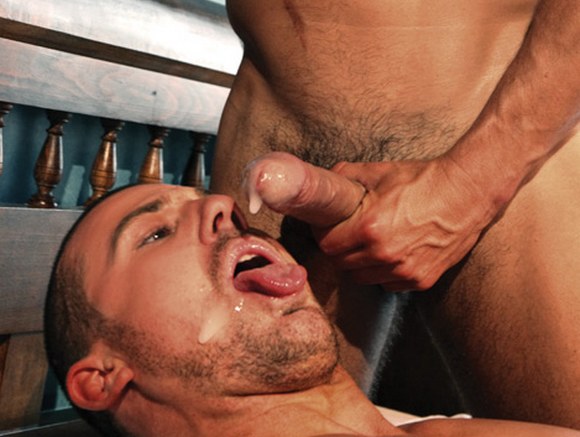 You have worked with Paddy O'Brian! How was he?
YES I HAVE WORKED WITH PADDY 3 TIMES, WE GET ALONG WELL, HE IS A NICE GUY AND ALSO A GOOD FUCK (HEHE)
Please tell us about your "porn journey" to Mykonos and working with Lucas Entertainment.
MYKONOS, WOW THAT WAS A CUTE JOURNEY AND FIRST TIME I WAS IN A 'PORN SET VACATION' IT WAS A GREAT EXPERIENCE AND THE LUCAS TEAM WAS BRILLIANT .
Could you please tell us everything about your experience at HustlaBall UK 2012 and Hotrods award? What was it like getting banged on the stage in front of audience?
WOW, I COULD DO IT EVERYDAY! I JUST REALIZE I LOVE HAVING SEX ON STAGE 🙂 IT WAS GREAT, NEARLY GAVE ME A CRUSH ON ADAM KILLIAN (SHHH HOPE HE AIN'T READ THIS).
What are your ultimate goals for this industry? What's next for Marco Sessions?
RIGHT NOW I'M EXCITED TO BE ABLE TO TRAVEL TO USA STARTING MARCH AND LOOKING FORWARD TO SAY YES TO ALL THOSE STUDIOS OVER THERE 🙂
Thank you so much Marco for the interview!
+ More of Marco Sessions