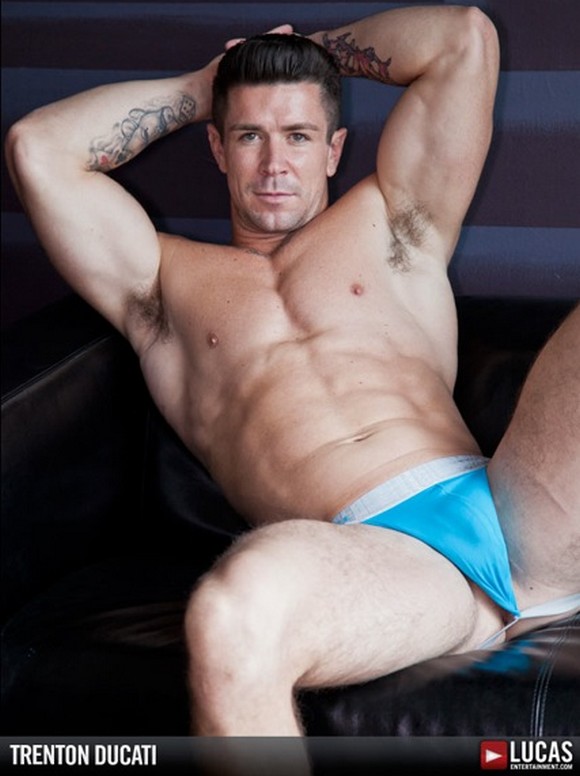 LUCAS ENTERTAINMENT just sent out press release announcing they has signed porn star Trenton Ducati as their first "exclusive bareback model." Trenton Ducati's first bareback scene with Lucas Entertainment will be released this Friday, November 8, 2013. It's a versatile sex between Trenton Ducati and Blue Bailey.
Lucas Entertainment is excited to announce the addition of industry star Trenton Ducati as the studio's first exclusive bareback model. Ducati has signed a three-month exclusive contract with Lucas Entertainment, which will begin with the performer's first bareback sex scene ever filmed on camera.
I think this is good news for his fans who want to see Trenton Ducati in full-on bareback scenes and those who were not satisfied with his Porn Star Sex Tapes between Trenton and Tate Ryder.
Blessed with an incredible body, a meaty cock and an abundance of erotic charm, Ducati is a great match for Lucas Entertainment. "Trenton Ducati is the full package: He looks great, tastes great and fucks even better!" says Lucas Entertainment's Creative Director, Adam Killian. "It's no accident that Trenton was named Gay Performer of the Year at the 2013 XBIZ Awards. He always delivers a stunning performance."

The former Playgirl cover model and Grabby Award winner first performed for Lucas Entertainment during a shoot in Greece for 2012's The Power of Love. He has been a fan favorite at the studio ever since.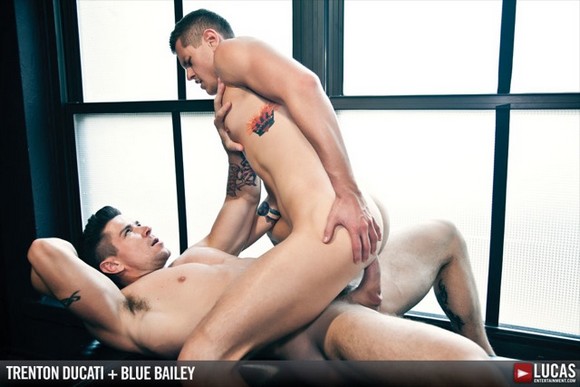 "I am so excited to be sharing my first non-condom scene with the world," Trenton says. "I have been waiting a long time for the opportunity to film this type of scene, but until now I had not found an environment that I felt was dedicated enough to safety and testing. Lucas Entertainment approaches these scenes with a whole new set of rules."

"The term I want to use going forward is 'informed bareback,'" Trenton explains. "It's not about denying risk or forgetting a condom or not wanting to use one in the heat of the moment. It's not at all careless. On the contrary, it relies on explicit, open communication and status sharing among the models. That makes it possible to give fans the kind of sex scenes they have been craving, while creating a space for performers that ensures them full information and consent."

Part One of Trenton Ducati's first bareback scene, featuring versatile sex with Blue Bailey, is set for release this Friday, November 8, 2013.