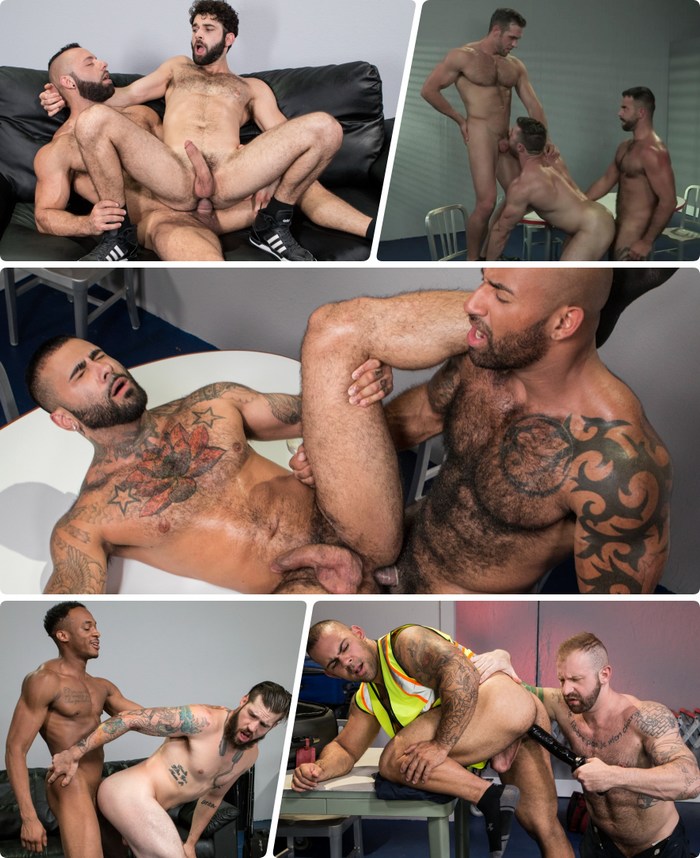 TSA CHECKPOINT, the upcoming gay porn movie from Raging Stallion, features 11 hunky gay porn stars: Alex Mecum, Derek Bolt, Teddy Torres, Daymin Voss, Eddy Ceetee, Tegan Zayne, Rikk York, Aleks Buldocek, Lorenzo Flexx, Trent King, and Buck Richards. It's perfect for viewers who have sexual fantasy about getting a pat-down from a hot TSA agent.
I'm looking forward to see bodybuilder Derek Bolt get tag-teamed by Alex Mecum and Teddy Torres in the final scene. 🙂 The first scene, a flip-fuck between Daymin Voss and Rikk York will be released this Friday. Check out the XXX trailer below.
TSA CHECKPOINT @Alex_Mecum @iamstevecruz @derekboltxxx @teddytorresxxx @dayminvoss @EddyCeetee @TeganZayne

MORE ? (https://t.co/p0UNQYmGG0) pic.twitter.com/LZCboESRdA

— Queer Me Now (@QueerMeNow) November 8, 2017
Traveling no longer has be a drag at the airport. Forget the lines and the delays, because when you hit the 'TSA Checkpoint' you might just get a hunky agent making you hard in a pat-down or a cock up your ass in a cavity search. Sit back and let passengers, employees, and Federal Agents make sure that your loaded weapon is safe for travel!
When Rikk York sets off the alarms at a TSA checkpoint, Officer Daymin Voss finds some contraband shoved up Rikk's fuzzy ass. Daymin probes the traveler until he sets off both of their explosive devices.
Tegan Zayne is heading home for spring break and decides to take a nap in the air lounge. When hot daddy pilot, Eddy Ceetee, enters the lounge Tegan is no longer tired and goes straight for Eddy's cockpit before getting his hairy asshole filled with dick.
Lorenzo Flexx and Aleks Buldocek are airline baggage handlers. After going through some luggage and trying out some sex toys, Aleks bends his co-worker over the inspection table and drills his throbbing hole.
Buck Richards is a sexy first-class lounge barista who serves up more than a cup of coffee to passenger Trent King when he gets his ass pounded with an extra side of heavy cream.
When baggage handler Lorenzo Flexx stumbles upon passenger Teddy Torres jacking his rod by the men's room, he gets on his knees and handles Teddy's bag until the two of them exchange facials and swap some cum. TSA Officer Alex Mecum catches Teddy lapping up the last of Lorenzo's public facial and brings him into custody where Alex and fellow officer Derek Bolt have some fun with the hung stranger that ends with Derek covered in jizz. The next time you're at a 'TSA Checkpoint' make sure to misbehave so that you, too, can get manhandled by the horny hunks of the airport.
+ Watch Raging Stallion Studios' XXX Gay Porn Movies on Queer Me TV