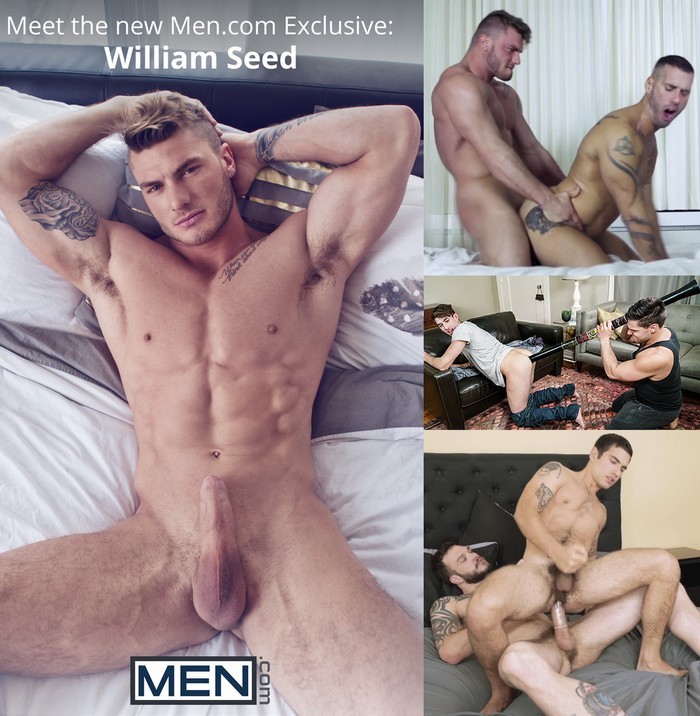 MEN.COM just released many new preview videos of its upcoming sex scenes. Here's some highlights. I'm looking forward to see Men.com's newest exclusive porn star William Seed. This Canadian muscle hunk will make his Men.com debut next week on May 4th in a scene called CLOSET PEEPERS. Can't wait to watch this stunning hunk William Seed jackhammer Alexy Tyler.
One day after, on May 5th, Cliff Jensen will make a comeback to gay porn after his release from jail last year. Cliff Jensen fucks Vadim Black in a scene called POLYAMOR-ASS Part 1. And be prepared for the scene on May 10th where Aspen fucks Jack Hunter with a Didgeridoo!!!
Hot New @Men Exclusive #GayPorn Star William Seed Fucks Alexy Tyler ?

Coming Soon ??https://t.co/bloBMB16Nh ?? pic.twitter.com/o9YHHfJFZw

— Queer Me Now (@QueerMeNow) April 28, 2017
William Seed is caught masturbating by Alexy Tyler and Shawn Hardy—turning those two into cock-crazed horn balls. William's seed is licked up from where he left it and Alexy and Shawn get to pounding in his bed. After an awkward encounter, William loosens up and joins in on the ass-fucking fun when he barrels Alexy Tyler's sweet hole to completion.
+ William Seed and Shawn Hardy Fuck Alexy Tyler in CLOSET PEEPERS [Coming May 4]
Coming Soon: Cliff Jensen Returns To Porn & Fucks Vadim Black ??https://t.co/xbyNCfKHh5 ?? @LoveCliffJensen @VadimBlack___ #GayPorn pic.twitter.com/2dHlQ5aqLS

— Queer Me Now (@QueerMeNow) April 28, 2017
Cliff Jensen comes clean with his multiple boyfriends about his polyamorous ways. He hopes to loop them all into one relationship by adhering to a strict sex-schedule—but Vadim Black wants special privileges and Cliff's hot cock deep in his ass.
+ Cliff Jensen Fucks Vadim Black in POLYAMOR-ASS Part 1 [Coming May 5]
Coming Soon: Aspen Fucks Jack Hunter with Didgeridoo ?https://t.co/lE1V04EXvl ? @XXXJackHunter @Zack_attack31 @mrChris_Crisco #GayPorn pic.twitter.com/cSR0NM0azL

— Queer Me Now (@QueerMeNow) April 28, 2017
Didgeridoos create a one-of-a-kind sound, and can reach deep into one's ass.
+ Aspen Fucks Jack Hunter in DIDGERIDOO ME [Coming May 10]