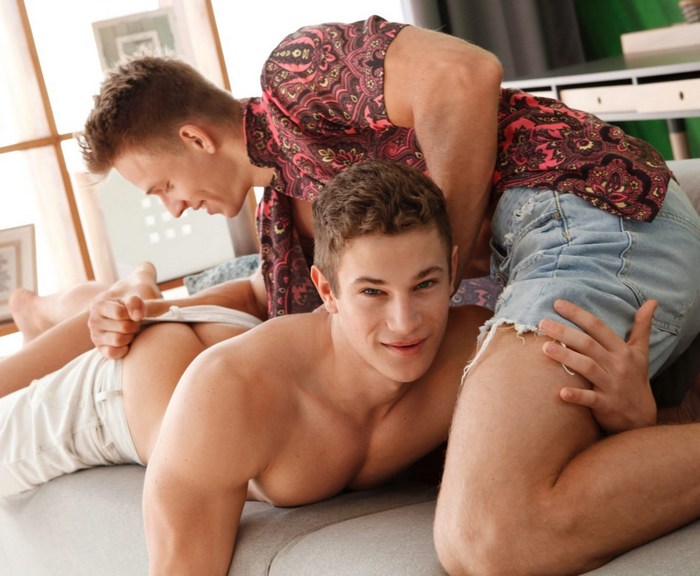 If you are a member of BELAMIONLINE.COM, don't miss BelAmi gay porn stars Yannis Paluan and Nils Tatum's FREE Live Cam Show this Sunday July 8th, 3pm EST. It's part of BelAmi's Summer In Prague event. You can also watch their recorded cam shows on Flirt4Free. Oh, and George Duroy just teased that we will see Yannis Paluan's gay porn debut around Christmas time.
Don't miss these hot scenes this week: Antony Lorca fucks Jeff Mirren, Jim Durden fucks Ronny Lamarr, and Ariel Vanean gets fucked bareback by Torsten Ullman.
Time is approaching for another of our 'Summer in Prague' free chats. This time up we have the sexy couple Nils and Yannis. 3pm EST this Sunday, July 8. Luke went out yesterday to make a thumbnail picture for the chat, so we thought we would share some of the leftovers here
+ Yannis Paluan & Nils Tatum Live Show Is Free For Members of BELAMIONLINE.COM
+ Check Out: Yannis Paluan | Nils Tatum | Yannis Paluan & Nils Tatum Duo
+ Watch Hot Guys & Gay Porn Stars Doing Live Cam Shows on FLIRT4FREE
Proverbs tells us to beware of the man bearing gifts and invoking flattering words, but I don't think that Jeff has anything to worry about when the gift bearer is Antony Lorca, and the gift is an especially large and hard cock. One of few BelAmi models who is cut, Antony certainly puts his dick to good use first in Jeff's eager mouth and then his hungry hole. The chemistry between these 2 good friends here is great and the sex something we all can aspire to.
+ Antony Lorca Fucks Jeff Mirren
Yann is a new one to all of us in this photo set premiere. He is here today being shot in our Budapest studio by Eliot Klien. He has a nice athletically lean body with a light sprinkling of hair on his chest, nice dick and low, swinging balls. His facial expressions alternate between sexy and sultry, playful and cheeky, and sweet and innocent and has a nice, thick and sticky load for us all to enjoy at the end.
While we concede to you that Ronny may not be the most classically handsome model around, there is no denying that he is one of the most talented and uninhibited performers that there is. Today he is very insistent on interrupting Kevin's work in order to get his hands on newcomer Jim (who by the way, also demonstrates a total lack of inhibitions on a level similar to Dyan Maguire). Together they certainly make for a hot pairing. Normally when experienced guys pair up with newbies, it is the newby who generally bottoms. Not so today, as it seems that there is nothing more that Ronny wants than to get fucked.
+ Jim Durden Fucks Ronny Lamarr
Many times it pays to be patient and wait for something you really want. It is a lesson well learned by Ariel Vanean today as he sits alone waiting for a meeting. Serendipity (and I guess Luke Hammil) steps in and it turns out, they were unknowingly waiting for each other all along. In this encounter, it is obvious that Ariel has had the hots for Torsten for quite a while and can't wait to feel him inside his ass. If you like horny guys in genuine steamy sex, this should be just the scene for you.