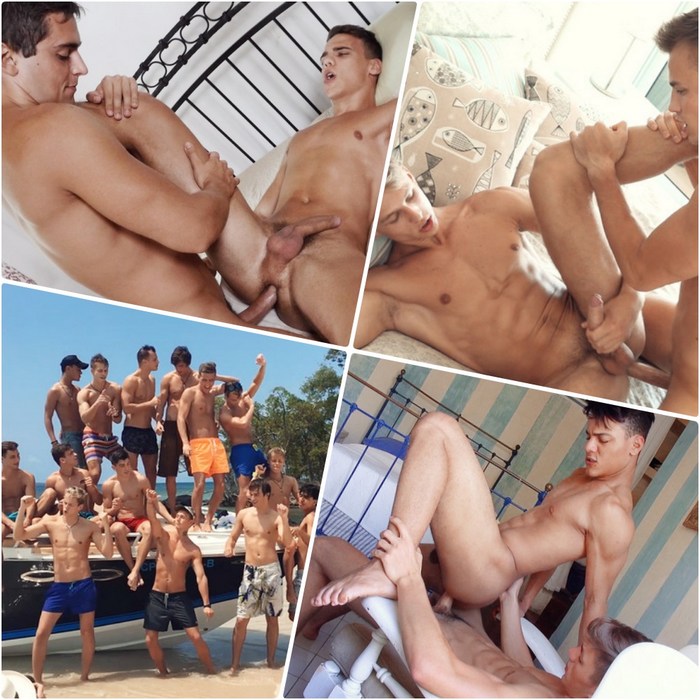 FRESHMEN just released the latest Viva Colombia gay porn series update. The hottest is gay porn star Hoyt Kogan fucks Nils Tatum bareback. You can also watch Kirk Gauguin fuck local Colombian guy Mario Borges, a photo set of Kevin Warhol, and a documentary called Boat Trip To Paradise.
Over at BelAmi main site, be sure to check out Joaquin Arrenas bottoms for Raoul Vargas.
This month we've replaced our usual Columbian casting with a documentary about the boy's trip to Ass Pirate's Island. Those who've enjoyed the novel "Three Men in a Boat", will be happy to see that Twenty Boys in a Boat multiplies the fun and adventure tenfold. Can they survive this adventure unharmed? Watch and find out!
+ Watch Boat Trip To Paradise Documentary on FRESHMEN
Those who watch our documentaries have observed that the boys, while loveable, cause chaos. To get away from the mayhem, Hoyt annexed an apartment to himself. This was quickly labelled "Hoyt's Love Den". So, when Nils comes looking for Hoyt, he knows where to find him. Unfortunately, Hoyt's "Love Den" has transformed to his "Hangover Hut". Luckily for Hoyt, Nils has the needed cure.
+ Hoyt Kogan Fucks Nils Tatum Raw on FRESHMEN
Finally! It is Kevin's turn to be featured here as our Viva Colombia photo model. Since Kevin never disappoints, he was held back till the end of the series. You will see him again next month in a scene with Pip Caulfield.
Since there was no Columbian casting this week, we're showing you Columbian action instead. Sometimes the newbies get one over on the more experienced models. Hoyt and Helmut find Mario on the street and convince him to go home with them. Once they get him there, they dither around finding drinks to create a party for their hot find. Kirk takes advantage of this, swoops in and steals Mario from under their noses claiming him all to himself.
+ Kirk Gauguin Fucks Mario Borges on FRESHMEN
We can all empathize with Raoul here, holidays are off and it is back to the humdrum of everyday life. At least Raoul has a few memories to keep him horny and happy, and the one he shares with us today is about the day spent visiting his buddy Joaquin in his country cottage. This is one of the scenes filmed for us by guest director, Vlado Iresch.
+ Raoul Vargas Fucks Joaquin Arrenas Bareback