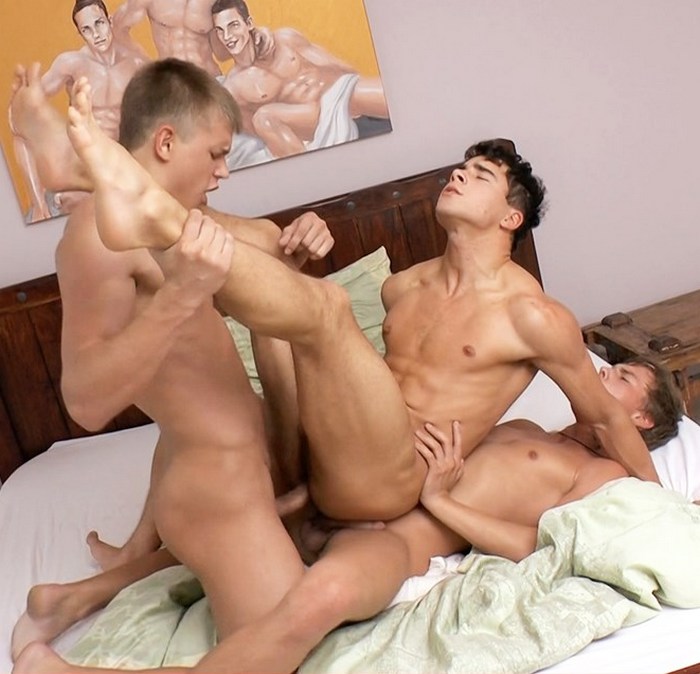 BelAmi just released this 2-part fuck fest from the archive to celebrate its 25th Anniversary. It features 3 hot BelAmi gay porn stars Kevin Warhol, Gino Mosca & Misha Akunin.
Part 1 has Misha being the bottom boy and then Part 2 it's time for gay porn star Gino Mosca to get fucked raw by Kevin Warhol and Misha Akunin. At first I thought Gino get DP'd but too bad, he didn't.
There are certain combinations of boys that not only call for us to film together, but draw us to film them together multiple time. This is certainly the case with Kevin and Misa. The first time we presented together was back in 2013, first as a couple and then again later with the addition of Gino. That last scene was such a good one, that we decided to re-film it as the 2 day encounter that you are seeing this week here on BelAmiOnline.
+ BelAmi Gay Porn Stars Gino Mosca, Kevin Warhol & Misha Akunin Bareback Fuck Fest
+ More of Kevin Warhol | Gino Mosca | Misha Akunin
+ Watch Stunningly Beautiful Gay Porn Stars Fucking Raw on BELAMIONLINE.COM