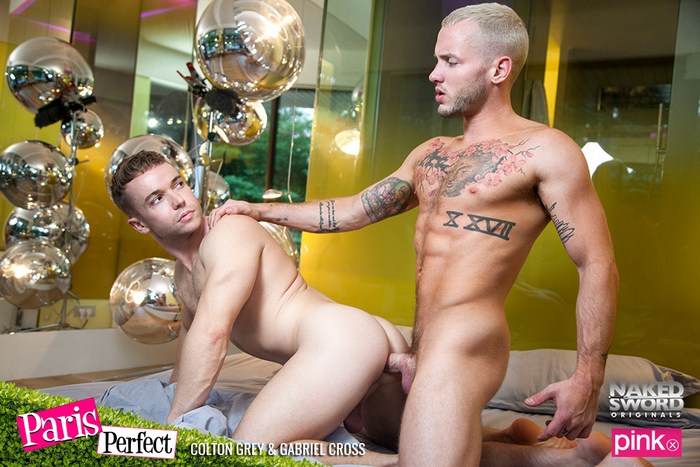 After his oral scene with Trenton Ducati in Episode 1 of PARIS PERFECT and his buddy Johnny V having sex with legendary Francois Sagat in Episode 2. Now it's time for Colton Grey to get some actions himself in Paris Perfect Episode 4: Grudge Fuck, Colton Grey and Gabriel Cross take turns fucking each other.
Colton Grey & Gabriel Cross in Paris Perfect "Grudge Fuck" #GayPorn @GreyColton @GabrielCrossXXX @mrPam @Naked_Sword

MORE ? (https://t.co/deCwr2jU7Y) pic.twitter.com/ElrTB2560s

— Queer Me Now (@QueerMeNow) December 6, 2017
Colton Grey falls into a troubled sleep. As his lovely dreams of Paris turn into a violent nightmare, Johnny V. is still lost and about to give up hope. As the sun sets on the Eiffel Tower Johnny meets a beautiful American tourist and borrows her phone. The call wakes Colton with a jolt but he's relieved to hear from his best friend. Colton gives Johnny the address to the Penthouse when he suddenly realizes someone is standing over him, watching. It's sexy Brit Gabriel Cross and he's seeking the ultimate revenge: he wants to fuck Colton in his ex-lover's bed. One look at Gabriel's fat bubble-butt and juicy cock is all it takes for Colton to happily comply. He eats Cross's perfect ass then fucks him long and hard before turning over and letting Gabriel pound his hungry hole. Colton kicks back and blows his load all over Gabriel's pretty face. Is this really happening or is it all a dream?
+ Colton Grey and Gabriel Cross Flip-Fuck in Paris Perfect Episode 4: Grudge Fuck
+ More of Colton Grey | Gabriel Cross