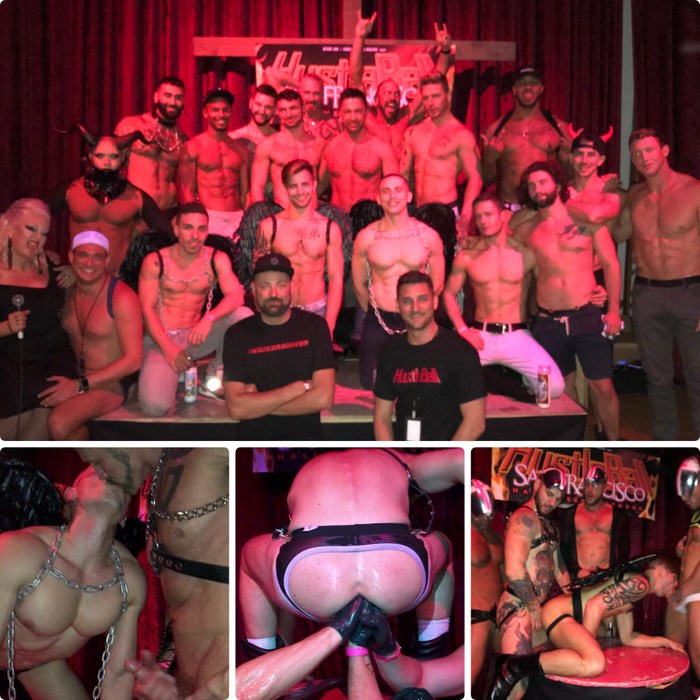 The first ever HustlaBall San Francisco, the erotic dance party has begun. As you can see from the picture above, the event is jam-packed with gay porn stars. Keep an eye on this space for exclusive photos and video clips by @philliyT of NightsInWeHo.com from this gay porn event.
[UPDATE #1] Add 2 Sex Shows: Casey Everett gets gang-banged by Dominic Pacifico, Teddy Bryce, Josh Moore & Hans Berlin and Josh Moore fucks Teddy Bryce.
[UPDATE #2] Add A Fisting Show: Ashley Ryder gets TRIPLE FISTED By Josh Milk, Brian Bonds & Jackson Fillmore.
[UPDATE #3] Add Dallas Steele, Dante Martin & Jesse Jackman Live Sex Show.
[UPDATE #4] Add Teddy Bryce, Ian Greene & Dallas Steele Fuck Show.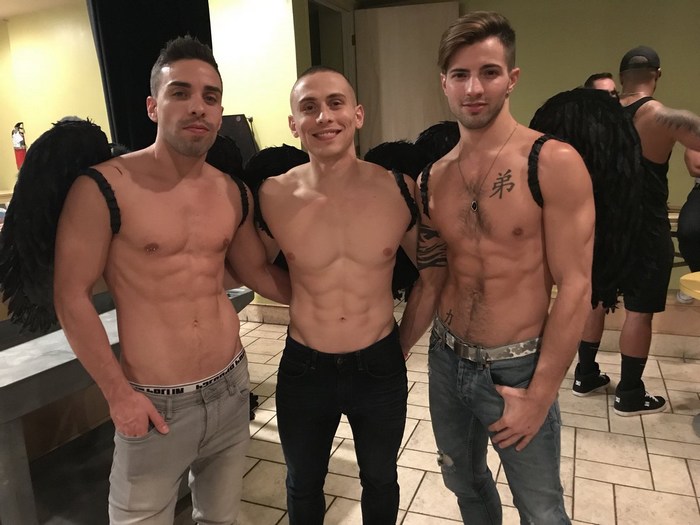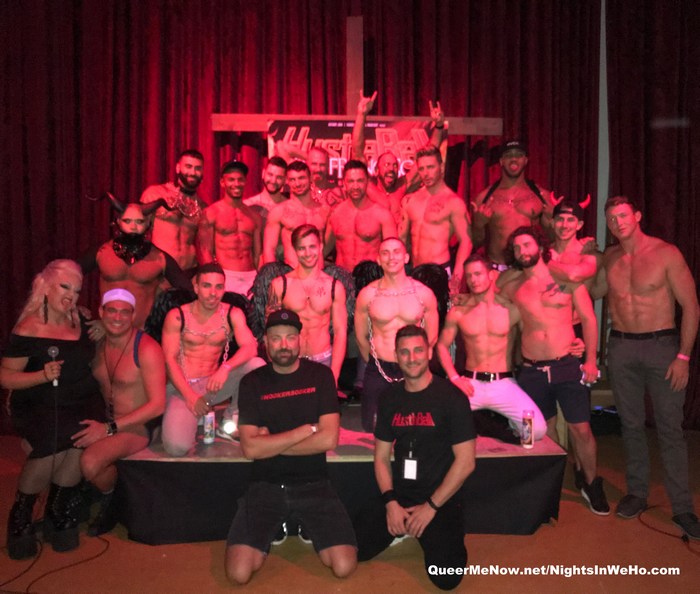 Gay Porn Stars @JasonVarioXXX @PierceParisXXX @LeoForteXXX @XXxJackHunter at @TheHustlaBall SF @MrCharlieOak

MORE?(https://t.co/bT7KK7NBYR) pic.twitter.com/vq2NOlpFci

— Queer Me Now (@QueerMeNow) October 28, 2017
HustlaBall SF 2017 @TheHustlaball @phillyT @MrCharlieOak @ASHLEYRYDER_ @JesseJackmanXXX @JoshMilkxxx

MORE ? (https://t.co/bT7KK7NBYR) pic.twitter.com/TRZLVfMgZy

— Queer Me Now (@QueerMeNow) October 28, 2017
HustlaBall SF Behind The Scenes @TheHustlaball @phillyT @MrCharlieOak @JasonVarioXXX @JoshMilkxxx

MORE ? (https://t.co/a223HHGMGQ) pic.twitter.com/gl3s5kTLGv

— Queer Me Now (@QueerMeNow) October 28, 2017
Gay Porn Stars Preparing For The Live Sex Shows
EXCLUSIVE: @TheCaseyEverett GANG BANG @TheHustlaball @HansBerlinxxx @DominicPacifico @JoshMooreXXX @Teddy_Bryce

?https://t.co/BLEwDdzMJZ? pic.twitter.com/IVLliEcQvT

— Queer Me Now (@QueerMeNow) October 28, 2017
Casey Everett Gets Gang-Fucked By Dominic Pacifico, Teddy Bryce, Josh Moore & Hans Berlin
EXCLUSIVE: @JoshMooreXXX Fucks @Teddy_Bryce at @TheHustlaball San Francisco ? @MrCharlieOak @philliyT

MORE ? (https://t.co/s94aPlgNnM) pic.twitter.com/4RBNvH4SO8

— Queer Me Now (@QueerMeNow) October 28, 2017
Josh Moore Fucks Teddy Bryce
Fisting & Dildo Sex Show @TheHustlaball @ASHLEYRYDER_ @HansBerlinxxx @JoshMilkxxx @jackfillmorexxx @philliyT

MORE?(https://t.co/xjw5AOpGSM) pic.twitter.com/B9x6xldmbq

— Queer Me Now (@QueerMeNow) October 28, 2017
Exclusive: @ASHLEYRYDER_ TRIPLE FISTED @TheHustlaball @JoshMilkxxx @HansBerlinxxx @jackfillmorexxx @philliyT

MORE?(https://t.co/IHbZugaHaS) pic.twitter.com/TDCCBpJDtJ

— Queer Me Now (@QueerMeNow) October 28, 2017
Ashley Ryder Gets TRIPLE FISTED By Josh Milk, Brian Bonds & Jackson Fillmore
HustlaBall SF @DallasSteeleXXX Dante Martin @JesseJackmanXXX Sex Show @TheHustlaball @MrCharlieOak

MORE ? (https://t.co/K13gaBJjLy) pic.twitter.com/WrNsyU14cY

— Queer Me Now (@QueerMeNow) October 28, 2017
Live Sex Show @DallasSteeleXXX Dante Martin @JesseJackmanXXX Fuck Fest @TheHustlaball @MrCharlieOak

MORE ? (https://t.co/aWHAvJw5Ew) pic.twitter.com/AsApJThd8U

— Queer Me Now (@QueerMeNow) October 28, 2017
Dante Martin Gets Fucked By @DallasSteeleXXX at @TheHustlaball San Francisco ? @philliyT @MrCharlieOak

MORE ? (https://t.co/tmhM2EHYul) pic.twitter.com/lyn6TNCRJ1

— Queer Me Now (@QueerMeNow) October 29, 2017
Dallas Steele, Dante Martin & Jesse Jackman Live Sex Show
Gay Porn Stars @IanGreeneXXX @Teddy_Bryce & @Ryan_Raz at @TheHustlaball

MORE ? (https://t.co/PbXafWVCbF) pic.twitter.com/N0pKfvbfI9

— Queer Me Now (@QueerMeNow) October 29, 2017
Ian Greene, Teddy Bryce & Ryan Raz
HOT! @Teddy_Bryce @IanGreeneXXX @DallasSteeleXXX @XXXJackHunter at @TheHustlaBall San Franciso @MrCharlieOak

MORE?(https://t.co/xTKEAKSEsw) pic.twitter.com/sx2EOxCeZP

— Queer Me Now (@QueerMeNow) October 29, 2017
HOT! @DallasSteeleXXX Jackhammers @Teddy_Bryce at @TheHustlaball SF @XXXJackHunter @iangreenexxx

MORE ? (https://t.co/KvTd41c3I7) pic.twitter.com/RHUa9VqAVR

— Queer Me Now (@QueerMeNow) October 29, 2017
Teddy Bryce, Ian Greene & Dallas Steele Fuck Show