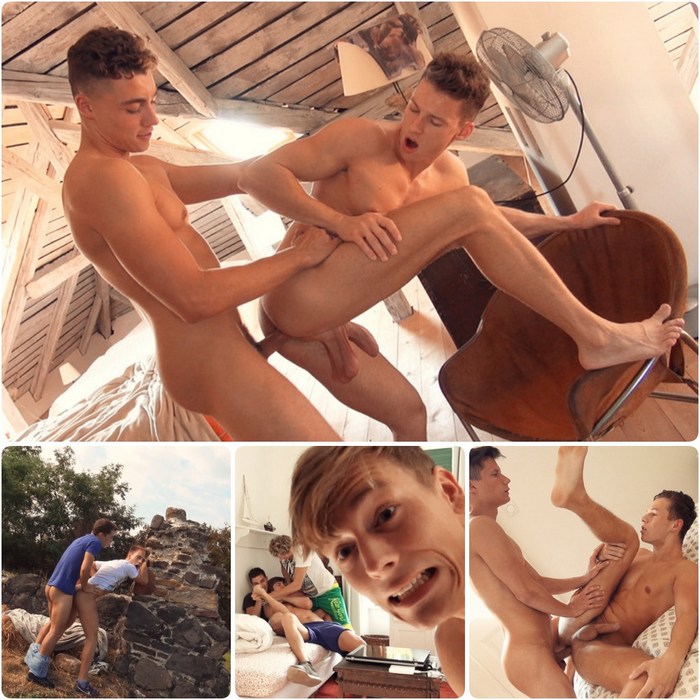 In this latest edition of Freshmen's Boot Camp series: BelAmi gay porn stars Joel Birkin and Pip Caulfield experiments with POV style, handsome newcomer Bruce Querelle fucks Jon Kael, and Matt Thurman bottoms for Mael Gauthier.
This scene is a point of view "selfie" style video shot by Joel. Joel happens upon Pip and, as someone familiar with the countryside, offers to show him the scenery. Of course, Pip's mostly desiring to become familiar with Joel's dick and the only scenery Joel is interested in gazing upon is Pip's ass. The outdoor sex almost comes to a halt as Joel realizes he did not bring lube. However, Pip's desire for Joel is too great and he decides to make do with a little spit. Pip's reputation as an outstanding lover is deserved. In rising to this, his biggest challenge yet, Pip has outdone himself.
+ POV: Pip Caulfield Gets Fucked By Joel Birkin's Huge Dick
This is Jon's debut here as part of BootCamp, and it is in fact Bruce's hardcore debut on Freshmen. We had our '1st Look' with Bruce late last year, and his introductory scene is live on BelAmiOnline where he can be seen topping Ariel Vanean, but this marks the first of many scenes to come here on Freshmen. Our scene today is filmed by Luke, so it has many of the hallmarks of a classic Freshmen scene, great lighting, angles and camerawork enhance what is an obvious chemistry between the 2 boys.
+ Jon Kael Bottoms For Bruce Querelle
The arrival of our Hungarian crew always generates a bit of excitement for the Czech boys, as they normally only get to see them all together on location shoots. Today, Pip and Matt waste no time in deciding who are their favorites; for Matt there was an instant attraction to Mael, so you can see that he was very embaressed when Adam (not so subtly) delivered the news on his behalf. At the end of the day all's well that ends well, and Matt gets his fuck with Mael and everyone ends up sticky and happy.
+ Mael Gauthier Fucks Matt Thurman
For the first series of BootCamp, we decided to give you a short version of our documentary series as a little taste of what is coming up. You will be able to find the full versions of the documentaries over on BelAmiOnline.