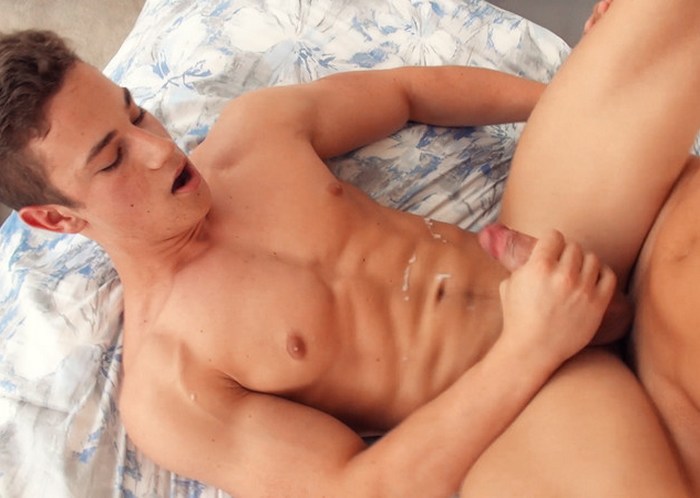 We recently watched Flirt 4 Free hunk / BelAmi gay porn star Yannis Paluan as a bottom in his previous sex scenes getting fucked by Nils Tatum and Jon Kael. Now in this newest edition of FRESHMEN, you can watch him top for the first time in a raw flip-fuck with Serge Cavalli (Yes Yannis ends up blowing his load while getting pounded by Serge). You can also watch a naked interview with Eluan Jeunet and Bastian Dufy bottoms for Riff Dornan.
This scene with Serge completes Yannis' introduction. Whoever coined the phrase "sharing is caring" obviously never experienced Yannis. Serge has been fucking around with Yannis on the sly for over a month and has no intention of sharing him with his buddies. Can you blame him? He and Yannis are so well suited together.They're both athletic, toned and very horny. Each boy wanted to enjoy the other to the fullest, hence the unusual flip flop filmed in one day. Thus, you'll get to see both guys as top and bottom. Do you prefer to see Yannis give or receive?
+ Yannis Paluan & Serge Cavalli Flip-Fuck
This interview with Eluan was conducted by GD during the filming of Summer Beak at Castello KinkyAngelo. There was a baptism by fire for Eluan as horny rascals Helmut and Jerome tried to convince him that the primary job of all assistants is to suck their dicks. Fortunately, Eluan is one of our brighter guys and knew how to handle their antics. Eluan is a libidinous linguist who speaks 7 languages and is looking to add Spanish to the mix. This interview will be followed later by an extended solo performance.
+ Eluan Jeunet Naked Interview
The Riff rollout resumes as he dons the title "Freshmen of the Month" for his first scene here with Bastian Dufy as his partner. While Bastian's partners can attest to his talented tongue, he does not have the gift for languages other's have, so it is up fellow hung Hungarian Joel to tell us about his techniques for dealing with new models and finding out exactly what they like. He then hands Joel off to Bastian to do the best he can despite their language barrier. Fortunately, breaking down barriers- both sexual and linguistic, is something Bastian excels at. Bastian's easy-going nature, hot body and his talented tongue soon has Riff forgetting that Joel and Marty are in the room. Bastian's ass, in any language would still be hot and makes Riff's first experience fucking a guy enjoyable.