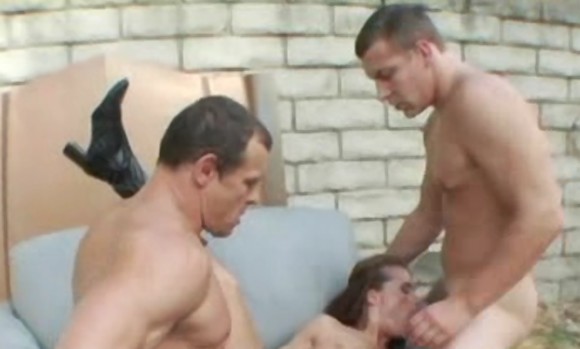 Look what I just found in my email inbox today, some screencaps from straight porn Milf and Honey 2 sent by one of blog readers. Yep! straight porn, if it's not your thing, just skip this post.
This is kinda weird story, the porn actor in this scene is former gay porn star Chance Caldwell. This versatile beefy guy starred in tons of gay porn flicks back in the 90s. His most memorable performance was in Falcon Studios' The Abduction Trilogy. He even won an award for Best Sex Scene from The Abduction II The Conflict (he got fucked by Ty Russell and Bo Summers). Chance Caldwell is "gay for pay", he left gay porn and has appeared in at least 250 straight porn movies. He goes by Jay Huntington now.
The weird thing about this threesome scene is – gay for pay porn star Chance Caldwell / Jay Huntington tag-teamed a girl with his real life son and fellow porn star Jerry! Relax… they didn't even touch each other but Jerry looks really like his dad.